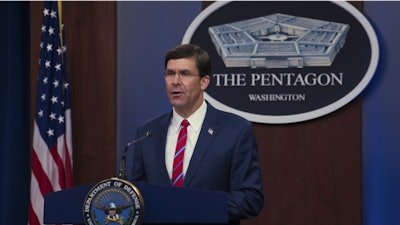 ARMY STAFF SGT. NICOLE MEJIA/DEPARTMENT OF DEFENSE VIA AP
WASHINGTON (AP) — A senior military general says the Pentagon has not yet delivered any of the 2,000 ventilators it offered to the Department of Health and Human Services two weeks ago because HHS has asked it to wait while the agency determines where the devices should go.
Lt. Gen. Giovanni Tuck, the Pentagon's top logistics official, said in an interview with a small group of reporters Tuesday that the military arranged for an initial batch of 1,000 ventilators to be delivered, but HHS asked it to wait.
Tuck also told reporters that of the 5 million respirator masks the Defense Department offered to provide to HHS as personal protective equipment for health care workers and others, about 1.5 million have been sent. He said another 500,000 are due to be shipped this week. The rest will be delivered when HHS asks for them, he added.