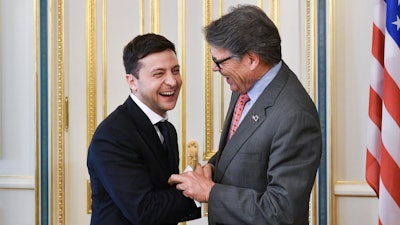 Mykola Lazarenko/Presidential Press Service Pool Photo via AP
KYIV, Ukraine (AP) — Two political supporters of U.S. Energy Secretary Rick Perry secured a potentially lucrative oil and gas exploration deal from the Ukrainian government soon after Perry proposed one of the men as an adviser to the country's new president.
Perry's efforts to influence Ukraine's energy policy came earlier this year, just as President Volodymyr Zelenskiy's new government was seeking military aid from the United States to defend against Russian aggression, and allies of President Donald Trump were ramping up efforts to get the Ukrainians to investigate his Democratic rival Joe Biden.
Ukraine awarded the contract to Perry's supporters little more than a month after the U.S. energy secretary attended Zelenskiy's May inauguration. In a meeting during that trip, Perry handed the new president a list of people he recommended as energy advisers. One of the four names was his longtime political backer Michael Bleyzer.
A week later, Bleyzer and his partner Alex Cranberg submitted a bid to drill for oil and gas at a sprawling government-controlled site called Varvynska. They offered millions of dollars less to the Ukrainian government than their only competitor for the drilling rights, according to internal Ukrainian government documents obtained by The Associated Press. But their newly created joint venture, Ukrainian Energy, was awarded the 50-year contract because a government-appointed commission determined they had greater technical expertise and stronger financial backing, the documents show.
Perry likely had outsized influence in Ukraine. Testimony in the impeachment inquiry into Trump shows the energy secretary was one of three key U.S. officials who were negotiating a meeting between Trump and the Ukrainian leader. The sequence of events suggests the Trump administration's political maneuvering in Ukraine was entwined with the big business of the energy trade.
Perry made clear during trips to Kyiv that he was close to Bleyzer, a Ukrainian-American investor and longtime Perry supporter who lives in Houston, and Cranberg, a Republican mega-donor who provided Perry the use of a luxury corporate jet during the energy secretary's failed 2012 presidential bid. Perry's spokeswoman said Wednesday that the energy secretary has championed the American energy industry all over the world, including in Ukraine.
"What he did not do is advocate for the business interests of any one individual or company," said Shaylyn Hynes, the press secretary for the Energy Department. Jessica Tillipman, who teaches anti-corruption law at George Washington University, said even if Perry did seek to influence foreign officials to award contracts to his friends, it is likely not illegal.
"My gut says it's no crime," she said. "It's just icky." Zelenskiy's office did not respond to requests for comment. In a statement to AP, Bleyzer denied that Perry helped his firm get the gas deal.
"I believe that Secretary Perry's conversations with Ukrainian government officials, if they in fact took place, did not play any role in Ukrainian Energy winning its bid," Bleyzer said Tuesday. He said the process was competitive and transparent and "will hopefully serve as an example of how the Ukrainian energy market can be opened for new investments."
Amy Flakne, a lawyer for Cranberg's company Aspect Holdings, said Wednesday that Perry and other U.S. officials supported "a fair, competitive process to bring foreign capital and technology to Ukraine's lagging energy sector."
"Aspect neither sought, nor to our knowledge received, special intervention on its behalf," Flakne said.