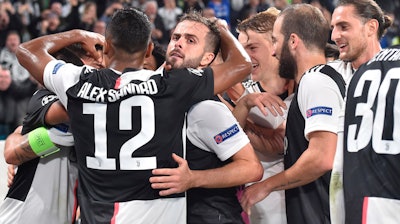 Andrea Di Marco/ANSA via AP
TURIN, Italy (AP) — Juventus will now be making more than $100 million per season from its jersey sponsorships. The Italian soccer club announced a $28 million increase in annual sponsorship from Jeep automobiles, which, like Juventus, is controlled by Exor, the Agnelli family holding company.
The new deal brings the Jeep sponsorship to $46 million. That comes after brand sponsor Adidas in December modified its eight-year deal through 2026-27 for a total of $452 million plus bonuses — for a base rate of $56 million per season.
Also at a shareholders meeting Thursday, Juventus president Andrea Agnelli announced plans to build a new stadium for the club's women's team — which is the two-time defending Series A champion — to share with the Under-23 squad.