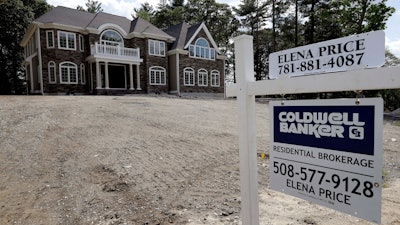 AP Photo/Steven Senne
WASHINGTON (AP) — The pace of U.S. home construction jumped 12.3 percent last month to a 12-year high on a surge in apartment building. The Commerce Department said Wednesday that housing starts came in at a seasonally adjusted annual rate of 1.36 million, most since June 2007 and up from a revised 1.22 million, as builders overcame a shortage of skilled workers and available land.
Construction of single-family homes rose 4.4 percent to 919,000. Building of apartments and condominiums surged 30.9 percent — the biggest monthly gain since December 2016 — to 424,000.
Residential construction rose 30.5 percent in the Northeast, 15.4 percent in the Midwest and 14.9 percent in the South but was unchanged in the West. In another good sign for the housing market, permits, a signal of future building, rose 7.7 percent to 1.42 million, highest since May 2007.