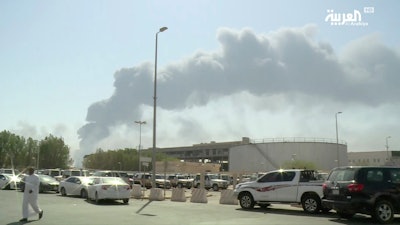 Al-Arabiya via AP
The U.S. Energy Department says the U.S. "stands ready to deploy resources from the Strategic Petroleum Oil Reserves if necessary to offset any disruptions to oil markets" in the wake of a drone attack in Saudi Arabia on the world's largest oil processing facility. 
In a statement Saturday night, the department said Energy Secretary Rick Perry has also directed department leadership to work with the International Energy Agency on potential available options for collective global action if needed. Nations of the 30-member IEA seek to respond to disruptions in the oil supply and advocate for energy policy.
The U.S. strategic oil reserves holds 630 million barrels. Huge fires erupted Saturday after Yemen's Houthi rebels used drones to attack the Abqaiq oil processing facility and the Khurais oil field. Saudi officials say production operations at the sites have been temporarily suspended. Saudi Arabia's energy minister has confirmed that attacks on its oil facilities Saturday knocked out about 50 percent of the country's production and said it will make up for some of the loss with oil stocks.
In a statement released by the Saudi Press Agency, Prince Abdulaziz bin Salman bin Abdulaziz says explosions at Saudi Aramco's Khurais and Abqaiq plants caused several fires that were controlled, but there were no injuries. According to preliminary estimates, 5.7 million barrels a day of oil production were lost, and the supply of ethane and natural gas also was cut by about half.
Secretary of State Mike Pompeo is blaming Iran for the attacks. The attacks come as Trump has held the door open for nuclear talks with Iranian President Hassan Rouhani and as Iran restarted some uranium enrichment in violation of the 2015 nuclear accord.