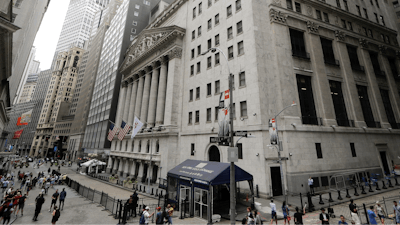 AP Photo/Frank Franklin II
NEW YORK (AP) — U.S. stocks marched broadly higher Wednesday as investors snapped up technology companies following China's move to exempt some U.S. products from a recent round of tariffs.
The tech sector, which has much to gain or lose in the trade war, moved broadly higher in the early going. Apple, which unveiled a variety of new products and services a day earlier, rose 1.8 percent. Chipmaker Nvidia rose 1.4 percemt.
Energy and communications stocks also made strong gains. Oilfield services company Schlumberger rose 2 percent and AT&T rose 1.2 percent. The financial sector wobbled between small gains and losses after pulling out of an early slide. Consumer product makers were essentially flat.
Bond prices fell. The yield on the 10-year Treasury rose to 1.73 percent from 1.70 percent late Tuesday. On Wednesday, China said it will exempt American industrial grease and some other imports from tariff increases, though it kept in place penalties on soybeans and other major U.S. exports ahead of negotiations next month.
The move could indicate that both sides are settling in for an extended conflict even as they prepare for talks in Washington aimed at ending the dispute that threatens global economic growth.