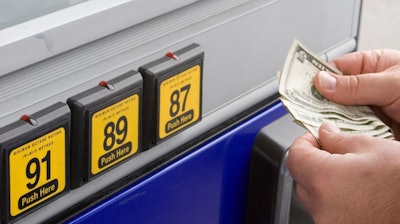 According to the most recent report from U.S. Energy Information Administration, the national average price for a gallon of gasoline sits at $2.57, which is 25 cents/gal (nine percent) lower than the price at the same time last year. This decline is linked to lower North Sea Brent crude oil prices (a global benchmark for crude oil and what the EIA considers the most prominent determinant of U.S. gasoline prices), drops in year-over-year demand, and high gasoline inventory levels.
The EIA also estimates that in July 2019, the price of crude oil accounted for 52 percent of the average U.S. retail price of regular gasoline, followed by taxes (18 percent), refining costs (16 percent), and distribution and marketing expenses (14 percent). A barrel of crude oil contains 42 gallons, so each dollar per barrel of sustained price change itranslates to an average change of about 2.4 cents/gal in petroleum product prices. The price of Brent crude oil has fallen from $69.82 per barrel on August 27, 2018, to $58.25/b on August 26, 2019.
According to data from the Federal Highway Administration, U.S. drivers drove 1.6 trillion miles between January and June 2019—1.1 percent more than the equivalent period in 2018. The EIA is forecasting that U.S. drivers will drive 3.3 trillion miles in 2019, making it the busiest year for automotive travel since at least 1970. Despite the increase in miles traveled, the year-to-date supply of finished motor gasoline is slightly lower (-0.1 percent) compared with the same period last year.
The U.S. inventory of gasoline is currently near the top of the five-year (2014–18) range at 232 million barrels. Relatively high gasoline production (as compared with the five-year range) and slightly lower product supplied have likely contributed to high inventory levels and put downward pressure on gasoline prices going into the Labor Day weekend. As of August 26, gasoline prices are 14 cents/gal lower than the five-year average and are four cents/gal lower than the 2019 year-to-date average. Historically, gasoline prices during the week leading into Labor Day have been 3.8 percent higher than the rest of the year, but this year Labor Day week gasoline prices are 1.4 percent lower than the year-to-date average.
Regional gas prices are usually the highest in the West Coast, owing to the region's limited interconnections with other major refining centers (including the Gulf Coast), tight local supply and demand conditions. As a result, West Coast gasoline prices between January 1 and August 26 averaged $1.12/gal higher than prices on the Gulf Coast, which typically has the country's lowest prices. As of August 26, gasoline prices in the Gulf Coast averaged $2.26/gal, 31 cents lower than the national average. Gasoline prices in the East Coast, Midwest, and Rocky Mountain regions on August 26, 2019, averaged $0.22/gal, $0.23/gal, and $0.39/gal higher, respectively, than Gulf Coast prices.
U.S. regular gasoline prices averaged $2.75/gal from April through August 26. During the entire 2019 summer driving season, the EIA expects the price to average $2.74/gal, 11 cents lower than last summer. The monthly average price of U.S. regular gasoline in 2019 peaked in May at $2.86/gal. The agency further forecasts that annual U.S. regular gasoline prices will average $2.61/gal in 2019 and $2.70/gal in 2020.
The U.S. average diesel fuel price is 24 cents lower than a year ago, coming in at $2.98/gal.