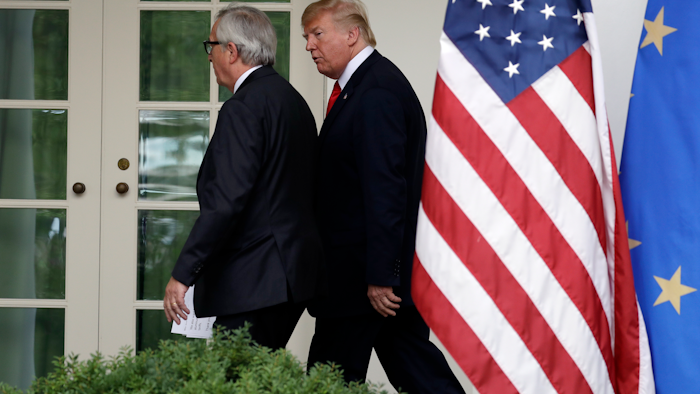 AP Photo/Evan Vucci
WASHINGTON (AP) — Treasury Secretary Stephen Mnuchin says addressing steel and aluminum tariffs and counter tariffs will be covered in the first phase of new negotiations between the United States and the European Union.
Mnuchin says President Donald Trump and his European counterparts reached an "agreement in principle" to avoid an escalation in their trade dispute. He also reiterated that there will be no new tariffs imposed while the two parties are negotiating a final deal. He says if the U.S. concludes an agreement, there will be no tariffs placed on foreign-made automobiles in the EU.
The Treasury secretary told reporters at the White House that after steel and aluminum tariffs are resolved, talks will focus on agricultural issues, chemicals and natural gas.
President Donald Trump and European Commission President Jean-Claude Juncker appeared in the White House Rose Garden on Wednesday to announce they've agreed to work toward "zero tariffs" and "zero subsidies" on non-automotive goods. Trump said the EU had agreed to buy "a lot of soybeans" and increase its imports of liquefied natural gas from the U.S. And the two sides also agreed to resolve a dispute over U.S. tariffs on steel and aluminum.
Negotiations are sure to be contentious and the United States remains embroiled in major trade disputes with China and other trading partners.