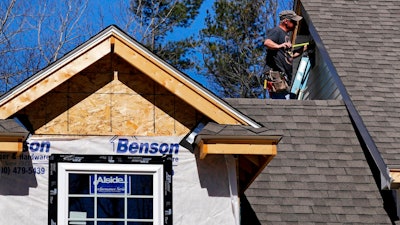 AP Photo/Charles Krupa, File
NEW YORK (AP) — The threat of a trade war with Canada has taken a toll on the confidence of U.S. homebuilders, according to index released Monday.
The National Association of Home Builders/Wells Fargo builder sentiment index released Monday fell two points to 68 in June. A reading of 70 in May temporarily snapped a four-month slide.
Any reading above 50 indicates more builders see sales conditions as good rather than poor. The index has remained above 60 since September 2016.
Builders' view of current sales conditions fell one point, to 75 this month. The outlook for sales over the next six months fell one point to 76. A measure of buyer traffic fell one point to 50.
"Builders are optimistic about housing market conditions as consumer demand continues to grow," said NAHB Chairman Randy Noel, "However, builders are increasingly concerned that tariffs placed on Canadian lumber and other imported products are hurting housing affordability."
The organization said higher lumber prices have added nearly $9,000 to the price of a new single-family home since January 2017.
The overall housing market remains tight, with prices of existing homes rising as demand remains strong and listings decrease. Mortgage rates are also steadily increasing, making purchases even more difficult for first-time homebuyers.
Sales of new U.S. homes fell 1.5 percent in April, according to The Commerce Department. The National Association of Realtors reported a 2.5 percent drop in existing home sales in April.