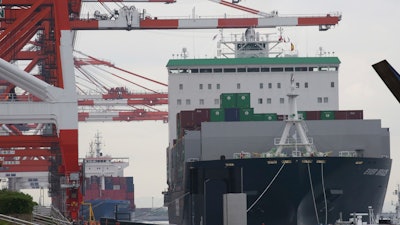 TOKYO (AP) — Japan's exports to the U.S. grew 5.8 percent in May from a year ago as shipments of machinery and vehicles rose, according to government data released Monday. Japan's imports from the U.S. for the month grew 19.9 percent as imports of aircraft, fuel and medical products gained on year, the Finance Ministry said.
Worries about trade tensions are growing over President Donald Trump's trade policies, including tariffs of 25 percent on imported steel and 10 percent on aluminum imports announced in March, including those slapped on imports from Japan. Globally, Japan's imports in May grew 8.1 percent and exports grew 14 percent, sending the trade balance into a deficit for the first time in three months, according to the preliminary data.
The surge in oil prices is among the main reasons for the deficit. Resource-poor Japan imports almost all its oil, and most of the dozens of nuclear reactors that dot the coastline have been offline since the 2011 Fukushima tsunami, quake and nuclear disaster.
The effect of Trump's trade program on Japan is expected to be complex, according to a report released Monday by economists at SMBC Nikko, Koya Miyamae and Yoshimasa Maruyama. The U.S. tariffs on China's exports could even help Japan's exports by making its products more price competitive, they said. China's retaliatory sanctions against the U.S. likely won't hurt Japanese exports, they said.