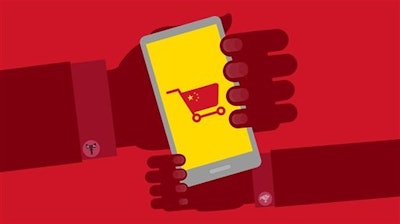 AP
SHANGHAI (AP) — The rivalry is so notorious it's been called the "great cat-and-dog war." On one side towers Alibaba Group Holding Ltd., China's e-commerce market leader, embodied by the black cat mascot of its Tmall platform. On the other is JD.com Inc., a fast-growing upstart represented by its white dog logo.
Brands now caught in the cross-fire say they were punished by Alibaba after refusing exclusive deals as the e-commerce giant tried to muscle out the competition — a charge Alibaba denies. Executives from five major consumer brands told The Associated Press that after rebuffing Alibaba, traffic to their Tmall storefronts fell, hurting sales. Three are American companies with billions in annual revenue that rely on China for growth. All spoke only on condition of anonymity for fear of reprisals.
"Many brands complained about this to us," said Wang Hongbo, a consultant who helps Chinese brands sell online. "Because they didn't fall in line, they faced restrictions on Tmall."
Alibaba called the charges of coercion "completely false" and said pursuing exclusivity is a common industry practice.
As the Trump administration pushes China to play by fair trade rules, companies in China are caught in a no less crucial struggle for rules-based access to a $610 billion online marketplace.
The platforms that control access to Chinese consumers online wield such enormous power that even multibillion-dollar foreign brands can have trouble fighting back, the AP found in interviews with more than 30 industry players. The AP also reviewed two Alibaba contracts that contain previously unreported exclusivity clauses.
The trials of the affected companies offer a rare window onto a bruising business culture forged in China that could spread as Alibaba takes its aggressive, innovative and hugely profitable model of e-commerce global. To the extent that the products in question are manufactured in the United States — and some are — constricting China sales can also deepen the imbalance of trade between China and the U.S., a gap that has been a top concern for the Trump administration.
In a statement, Alibaba acknowledged that it offers benefits to companies that sign exclusivity contracts, in line with Chinese law, but said merchants are free to work with whatever e-commerce companies they choose.
"Like many e-commerce platforms, we have exclusive partnerships with some of the merchants on Tmall," Alibaba said. "The merchant decides to choose such an arrangement because of the attractive services and value Tmall brings to them."
Imagine a company twice as profitable as Amazon that each year serves more people than live in all of North America. That's Alibaba. It claims to be the marketplace for nearly $550 billion a year in sales — more than is sold online in the entire U.S. economy. That's just the start of Alibaba founder Jack Ma's ambition. He aims to serve 2 billion consumers by 2036, roughly one in four people currently on the planet.
Alibaba's aggressive recruitment of foreign brands has paid off. The company said it signed up 60,000 international brands for its massive Singles Day sale in November, up from 5,000 in 2015. Tmall, which serves as a gateway to China for large foreign brands, controlled six of every 10 dollars spent overall for business-to-consumer sales online in China during the second half of last year — and even more in sectors like apparel.
The American Apparel & Footwear Association, a Washington-based industry group, said its members had complained about Alibaba's unfair competitive tactics. "We urge the authorities to quickly investigate and take steps to ensure such practices are eliminated from the growing Chinese marketplace," said Stephen Lamar, the group's executive vice-president.
JD.com is a member and sponsor of the association.
JD.com also does exclusive deals, but maintains that it doesn't strategically push merchants for exclusively. It doesn't have the market share in most categories to do much strong-arming anyway.
"We support fair and open competition because greater choice is always better for brands and users," JD.com said in a statement.
JD.com chief financial officer Sidney Huang said last month the company was still trying to win back over 100 Chinese brands that defected last year under pressure.
Chinese fashion company Peacebird, which left JD.com last year, said Alibaba had not coerced them and their decision to focus entirely on Tmall was strategic.
"We will centralize and develop the limited resources of our company on Tmall," said Weng Jianghong, the company's general manager of e-commerce.
Alibaba said its business practices comply with Chinese law. It is not clear whether the evidence of coercion brands have managed to collect would hold up in court.
Under China's anti-monopoly laws, companies with a dominant market position cannot demand exclusivity without justification. A 2015 regulation also bars e-commerce companies from restricting participation in promotions on competing platforms.
The contracts AP reviewed offered a suite of benefits designed to drive sales, in exchange for exclusivity. One specified that brands must not operate storefronts on other platforms without Tmall's permission. The other barred brands from sales promotions on rival platforms without Tmall's permission.
Executives offered different reasons for refusing such arrangements. Some said they worried cutting off JD.com would limit access to customers and hurt business. Others feared the agreement might be illegal, or felt that on principle it just wasn't the right thing to do.
Then came the stick: Executives said that after they rebuffed Alibaba, their brand's banners vanished from prominent spots in Tmall sales showrooms and products stopped appearing in top search results.
"Based on our sales record, we should have been in a prominent position, but we were at the bottom of the page," said the e-commerce director of a multibillion-dollar publicly traded company. "That's a clear punishment."
Two companies told AP they granted concessions to Alibaba, including exclusive product launches, raising prices on JD.com or removing ads promoting JD.com sales. Traffic to their Tmall shops rebounded. One company said it ultimately closed its JD.com flagship to salvage Tmall sales.
"This is certainly a problem for the development of retail sales channels," said Zhuo Saijun, who until 2015 was a general manager of research at Analysys Ltd., a Beijing-based consultancy. "It is a business ethics problem, and this is how monopolies develop."