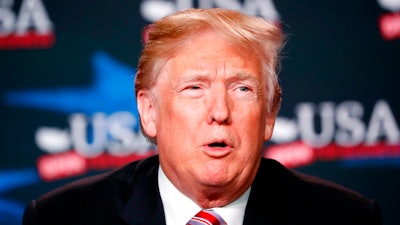 AP Photo/Pablo Martinez Monsivais
WASHINGTON (AP) — Rising costs. Delayed shipments. A baffling bureaucracy.
President Donald Trump's tariffs on imported aluminum and steel are disrupting business for American companies that buy those metals, and many are pressing for relief.
Hundreds of companies are asking the Commerce Department to exempt them from the 25 percent steel tariff and the 10 percent aluminum tariff.
Other companies are weighing their options. Jody Fledderman, CEO of Batesville Tool & Die in Indiana, says American steelmakers have already raised their prices since Trump's tariffs were announced last month. Fledderman says he may be forced to shift some production to a plant in Mexico in response to demands from his customers.
On Wednesday, a group of small- and medium-size manufacturers gathered in Washington to announce a new group — the Coalition of American Metal Manufacturers and Users — to fight the steel tariff.
The Trump administration last month imposed the tariffs on steel and aluminum, arguing that reliance on imported metals posed a threat to national security. But it promptly granted temporary exemptions, which expire at the end of the month, to several key U.S. allies, including the European Union, Canada and Mexico.
Steel- and aluminum-consuming companies also can appeal to the Commerce Department for exemptions — provided they can show they can't obtain the metals they need from U.S. producers. As of Tuesday, the department had received 2,180 requests for exemptions from the steel tariffs and 240 requests for relief from the aluminum tariffs.
One applicant, Pensmore Reinforcement Technologies of Ann Arbor, Michigan, says it can't find the quantity and quality of the steel it needs in the United States. Pensmore makes a steel-fiber reinforcement product that goes in tunnels and bridges and that is being considered for use in Trump's proposed U.S.-Mexico border wall.
Once the department posts the requests online , it has 90 days to reach a decision. So far, it has posted only a few dozen of the more than 2,000 requests.
"It sure seems like Commerce is just drowning in exclusion requests and will struggle to burn through them," says David Spooner, a partner at the law firm of Barnes & Thornburg and a former U.S. trade negotiator.
Commerce is reviewing the requests on a company-by-company basis instead of making across-the-board exemptions for individual steel and aluminum products. That approach means it will have to handle more applications.
It also raises the possibility that one company could receive an exemption from the tariffs while another would be forced to pay tariffs on the same product — perhaps because in the time between the two requests, domestic U.S. production has ramped up to fill shortages.
In addition, companies that want exemptions are finding that the request forms are "confusing, complex and full of traps for the unwary," says Richard Chriss, president of the American Institute for International Steel, which opposes the tariffs.
Matthew Nicely, a trade lawyer at the firm Hughes Hubbard & Reed, says companies seeking exemptions are required to publicly reveal confidential information about their products.
"Companies don't like to share that information," Nicely says. "I've had clients who've decided not to proceed. They say, 'If I provided all this information, I could put myself out of business' " by giving away secrets to competitors.
Even companies that buy only made-in-America steel complain that rising prices are squeezing their businesses. Qualtek Manufacturing Inc. in Colorado Springs, Colorado, makes precision metal parts for aerospace and medical device companies. CEO Troy Roberts says rising steel and aluminum prices have already driven the annual cost of his company's key products by $300,000, jeopardizing plans to add 14 jobs to his 74-employee staff. It's also delaying shipments.
He says his customers can easily divert business to foreign rivals with access to cheaper and more reliable supplies of steel.
The president's decision to impose the tariffs "cuts us off at the knees," Roberts says.