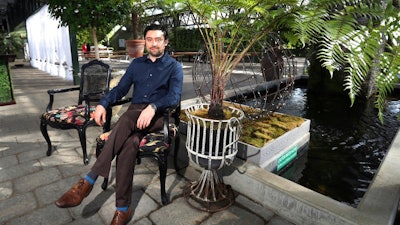 AP Photo/Carlos Osorio
NEW YORK (AP) — When heavy rain pelted Central America, Shane Pliska couldn't get shipments of taupe-colored roses he needed for clients' weddings.
"Of course, this was the season when everyone wanted champagne- and gold-themed weddings, and the champagne part was all taupe roses," says Pliska, owner of Planterra, a commercial florist and owner of a wedding venue where the decor is all about flowers and plants.
Pliska, whose company is located in West Bloomfield, Michigan, could have substituted other flowers but wanted to deliver customers' first choices. So he and his employees tinted white roses by hand.
Supply shortages can be the bane of a small company's existence. Severe weather and disasters can cause shortages, as can a manufacturer shutting down or stopping production of ingredients, components or raw materials. And shortages can force owners to be creative in finding substitutes or workarounds to mitigate damage to revenue and customer relationships.
Shortages can hit companies of any size. Hundreds of KFC stores in Britain had to close in February when they were unable to get shipments of chicken and other supplies. The problem started when KFC switched to a different delivery company that couldn't handle the volume of food the company needs at its 900 British outlets.
But small businesses can have an advantage over larger ones in a supply crisis, says Sunder Kekre, an operations management professor at Carnegie Mellon University's Tepper School of Business. They don't have the bureaucracy of large companies, and that gives them more flexibility in coming up with a solution, he says.
Small companies are also better able to stay in touch and negotiate with customers.
"You might convince them, 'You don't need it now, why not get it in two weeks,'" Kekre says.
When Hurricane Irma forced Miami International Airport to shut down in September, flower shipments from South America — which supplies the majority of roses, carnations and chrysanthemums sold in the U.S. — couldn't arrive. But the floral industry is set up for such contingencies, and distributors quickly arranged for shipments from other parts of the world. Pliska got flowers from Kenya in that case.
"When I get a shipment, I can see all the airline tags from different places," Pliska says.
Rob Starr had to adapt after the business that produced talc used in his pottery company's clay had to stop making it because it contained asbestos. After a long search, Starr found another supplier for The Potting Shed with a similar talc — but it didn't fare well in the kiln.
"Fortunately, he was a big fan of The Potting Shed and went to work on reformulating with the new talc," says Starr, whose company is located in Saxonville, Massachusetts.
Starr also had an extended search for a new supplier for picture frame parts. The vendor he used shut down in 2004, and Starr couldn't find one that would make high-quality parts. He stopped producing the frames, but kept looking. Just last year, he finally found one, and has returned the frames to his product line.
Now Starr faces another shortage: A second component for his clay is no longer available. "This could turn out to be a real dilemma for us if we cannot find an alternative," he says.
Sometimes supply disruptions force companies to make major changes in how they do business. When Italy went through an economic crisis nearly 10 years ago, companies went out of business, including some suppliers to Mark Fink's business selling imported hardware to furniture and cabinet makers. And his biggest vendor began turning out substandard products that Fink's company, Wood Technology, couldn't use. When it was clear Fink wasn't going to get the quality he needed, he had to tell his biggest customer he wouldn't be their supplier anymore.
"It was a very difficult position to be in and painful to part with nearly $2 million in annual revenue," says Fink, whose company is located in Pittsboro, North Carolina.
That happened as the U.S. economy was still suffering after the Great Recession, making it hard to find new business and make up the revenue. Fink developed new products including motorized lifts used to store flat panel TVs in decorative cabinets. He also increased his online business.
"You just don't give up — we're a small entrepreneurial business," he says.
While shortages are an obstacle for many small businesses, some owners have actually made materials in short supply the heart of their business.
Albany Woodworks uses reclaimed wood from demolished houses, barns and other buildings to make flooring and paneling. When Richard Woods started the business more than 40 years ago, reclaimed wood was easy to find and he had no competition. But demand has grown from renovating homeowners and groups restoring historical sites, and so has the number of rival firms.
"We are constantly having to network to find new suppliers that may have quality wood," says Woods, whose company is located in Tickfaw, Louisiana. His suppliers are demolition companies, and most sites with the wood he needs are in industrial revolution-era towns in New England and along the Mississippi River. "We go wherever we have to," Woods says.
At Widespread Electrical Sales, owner Scott Vaughn also travels the country in search of equipment that may be decades old.
"We rely on big industrial plants that are closing, buy the right to their power distribution systems, and rip them down," says Vaughn, whose company is based in Wheat Ridge, Colorado. He also gets obsolete equipment from decommissioned call centers and data centers.
Widespread Electric sells about half a million breakers a year, with some costing as much as $25,000. The cost is worth it for a business that otherwise would have to retrofit its power systems.
Supply shortages are an inherent part of the electrical business, Vaughn says.
"It's directed by the manufacturers themselves," he says. "They put out a product line and sell it with a planned obsolescence program behind it."