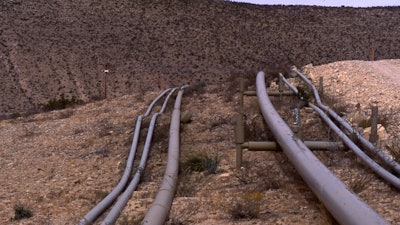 Wikipedia
BISMARCK, N.D. (AP) — Company officials say a $1.2 billion natural gas liquids pipeline proposed from Montana to Kansas will help accommodate increasing production in North Dakota and reduce wasteful flaring of excess gas.
Oneok's 900-mile Elk Creek Pipeline would be able to transport up to 240,000 barrels per day of natural gas liquids from a terminal near Sidney, Montana, to Bushton, Kansas.
CEO Terry Spencer said the proposed pipeline is "critical to meeting the needs of producers who are increasing production and are required to meet natural gas capture targets in the Williston Basin."
The project still needs regulatory approvals from federal, state and local agencies, the Bismarck Tribune reported .
The pipeline wouldn't cross North Dakota but would connect to existing pipelines in the northwestern part of the state. It will cross Montana, Wyoming, Colorado and Kansas, and move natural gas liquids from the Rocky Mountain region.
Justin Kringstad, director of the North Dakota Pipeline Authority, said more pipelines are needed to transport growing volumes of natural gas liquids, such as ethane, propane and butane. He estimates that about 40,000 to 60,000 barrels of natural gas liquids per day are transported by rail from North Dakota due to insufficient pipeline capacity.
The Elk Creek Pipeline will be designed to allow for expansion to 400,000 barrels a day with the creation of additional pumping facilities.
Kringstad also said that additional pipeline capacity can help reduce flaring by providing a cost-effective transportation option.
Energy companies "flare," or burn off, vast amounts of natural gas at drilling sites because it earns less money than oil. Methane, the primary gas burned off during flaring, is a contributor to climate change. Environmental groups have said the practice increases the risk of ozone formation in the air and ozone-related health problems.
"This is just one piece of that larger flaring puzzle," Kringstad said.
If approval is received, officials aim to complete the pipeline by end of 2019.