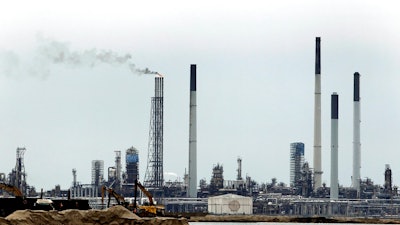 AP Photo/Wong Maye-E, File
SINGAPORE (AP) — Singapore police have arrested 17 men suspected of involvement in stealing oil from the largest Shell refinery in the world.
Police said Tuesday that they also seized $2.3 million and an oil tanker in connection with the theft, which was first reported in August.
Singapore media reported that that nine of the men were charged with criminal breach of trust and could face up to 15 years in jail if convicted. Two Vietnamese were accused in court of receiving stolen goods and could face up to five years in jail, local media said.
Shell has not said how much oil was taken. It said in a statement that those detained included "a limited number of Shell employees."
A police statement said the 17 men, aged 30-63, were detained Sunday. It said police are seeking to freeze the suspects' bank accounts.
The oil came from Shell's Bukom industrial site, located on an island southwest of Singapore. It is the company's largest petrochemical production and export center in the Asia-Pacific.
Theft of oil and of oil tankers has been a chronic problem in piracy-prone Southeast Asia for years.