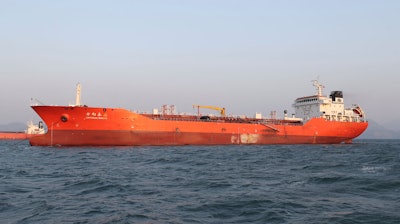 Hyung Min-woo/Yonhap via AP, File
BEIJING (AP) — China's government promised Friday to "deal seriously" with violators of U.N. sanctions on North Korea after a South Korean newspaper said Chinese-owned ships registered abroad regularly delivered oil.
Beijing has no information about operations of ships registered in other countries, said a foreign ministry spokesman, Geng Shuang.
The newspaper Chosun Ilbo reported this week Chinese-owned vessels flying the flags of Panama, Belize and other countries were suspected of improperly trading with North Korea.
South Korean officials have seized two ships on suspicion of violating U.N. sanctions imposed to discourage Pyongyang from pursuing nuclear and missile technology.
"If it is confirmed through investigation there are violations of Security Council resolutions, China will deal seriously with them in accordance with laws and regulations," Geng said at a regular news briefing.
Beijing, which accounts for most of the North's trade and energy supplies, was Pyongyang's diplomatic protector for decades but has supported the latest U.N. measures.
The sanctions limit energy supplies and ban transfers of any goods to North Korean ships at sea.
On Sunday, South Korean authorities announced the Panama-flagged tanker KOTI was being held at the port of Pyeongtaek on suspicion of "North Korea-related" activity.
Chosun Ilbo said the KOTI belongs to a company in Dalian in China's northeast. The newspaper said the ship was registered in Malaysia until mid-2017 and then switched to Panama.
Last week, South Korean authorities announced the Hong Kong-flagged Lighthouse Winmore was seized in November in the port of Yeosu. Its crew is suspected of transferring about 600 tons of refined petroleum products to a North Korean vessel in the East China Sea the previous month.
Lighthouse Winmore is registered in the Marshall Islands, according to Chosun Ilbo.
The newspaper said six other ships that U.S. authorities say are violating North Korea sanctions are Chinese-owned but registered abroad.
Some visit Yeosu regularly to take on oil, though it was unclear on how many of those trips they met North Korean vessels at sea, the report said. It said the KOTI docked at Yeosu six times and three times in Pyeongtaek between August and December to take on oil.