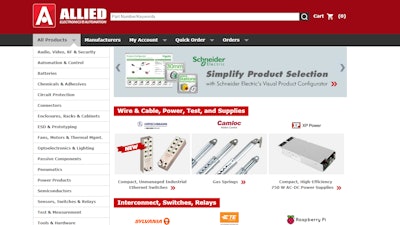 IEN Staff
Fort Worth, Texas – Allied Electronics has a new name. The company will now be known as Allied Electronics & Automation. The company's ownership and staff have not changed.

"Our new name better reflects our business as a premier distributor of electronics, and automation and control products," said President Steve Newland, in a press release. "For some time, Allied has focused on meeting the demands of our core industrial automation customers. It is time for our name to match what our customers have come to expect from us."
"Our new identity has been underway for several years now," said VP of eCommerce and Marketing Dan Stewart. "We started as Allied Radio 90 years ago, and we evolved during the 1970s into Allied Electronics, when our business moved from radio parts to electronic components. Our business has evolved, again, into serving the automation and control market. It is time we make our position clear by adding 'automation' to our name."
The company was founded in 1928 in Chicago, Illinois as Allied Radio, the distribution arm of Columbia Radio Corporation. The company changed its name to Allied Electronics in 1961 to reflect its move into industrial sales.
In 1970, the company moved to Fort Worth, Texas, after Tandy Radio purchased the company. In 1999, Electrocomponents of London, England, purchased Allied.
Today, Allied Electronics & Automation and its sister company, RS Components, also based in London, England, represent the trading brands of Electrocomponents, plc, the global distributor for engineers.