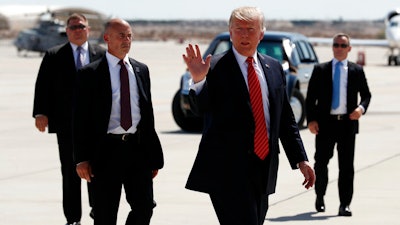 AP Photo/Alex Brandon, File
WASHINGTON (AP) — President Donald Trump is accusing Canada and Mexico of being "very difficult" at the negotiating table over the North American Free Trade Agreement, and threatening anew to terminate the deal.
Trump tweeted on Sunday morning that NAFTA is the "worst trade deal ever made."
Trump said at a rally last week in Phoenix that he would "end up probably terminating" NAFTA "at some point."
The U.S., Mexico and Canada began formal negotiations earlier this month to rework the 23-year-old trade pact that Trump blames for hundreds of thousands of lost U.S. factory jobs.
Trump is also taking to Twitter to press the need for his promised southern border wall, tweeting that Mexico will pay for it "through reimbursement/other." Mexico has repeatedly said there's no chance of that happening.
Mexico's foreign relations ministry responded to Trump's comments Sunday by reiterating that Mexico will never pay for a border wall and that it will not renegotiate NAFTA via social media or the press.
In a statement, the ministry also emphasized that the violence generated by drug trafficking is a shared problem between Mexico and the U.S., which creates the demand for drugs.
The second round of the NAFTA renegotiation is scheduled to begin Friday in Mexico City.