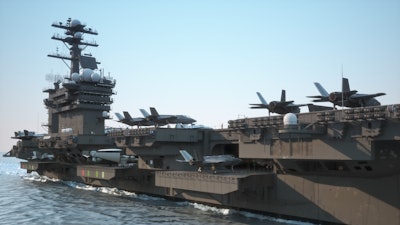 Earlier this week, the $584 billion Fiscal 2018 defense spending bill was approved by the House Appropriations defense subcommittee. The amount was less than the $640 billion requested by the House Armed Services Committee and more than the $566 billion that President Trump had sought.
With Overseas Contingency Operations funding of $73.9 billion, which encompasses initiatives against ISIS and in Syria, the spending bill reaches a total of $658.1 billion for the Department of Defense, which is $24 billion more than FY 2017.
Included in the bill is funding for 11 new Naval ships, including an aircraft carrier and two missile-guided destroyers, two submarines, three littoral combat ships, 56 Black Hawk helicopters, 12 aerial drones and an Expeditionary Sea Base. There is also $1.8 billion for 24 more F/A-18 Super Hornet fighter jets and P-8 Poseidon maritime patrol planes.
The bill seems to assume that Congress will raise spending caps set by a 2011 law before lawmakers approve the 2018 funding. If Congress doesn't pass that measure, defense spending will be capped at $549 billion.
The legislation also covers funding for a couple of key research projects. An additional $282 million will be provided for cancer research, $125 million for research on traumatic brain injury and psychological health, and $277 million for efforts to prevent and respond to sexual assaults.