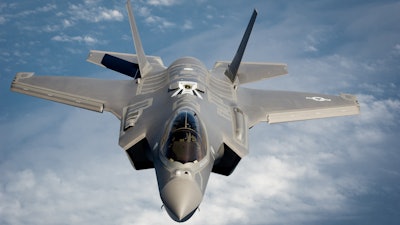 Lockheed Martin recently received a $1.37 billion contract for initial production of 130 F-35 Lightning II fighter planes. The aerospace giant also announced a $64.6 million deal for engineering on the Common Compartment Strategic Weapons System, which encompasses the testing, maintenance and integration of the D5 Trident II missile system.
The F-35 agreement includes parts, maintenance, and other services, with the majority of the work being performed at the company's Ft. Worth, TX and El Segundo, CA locations, although others sites in Florida, New Hampshire, Maryland, and even Great Britain and Japan will provide support.
The contracted work is expected to be completed in December 2018.
The Trident missile contract could grow to $94.1 million, with most of the work being performed in Sunnyvale, CA and Cape Canaveral, FL. It is expected to be completed by February of 2022.
The D5 Trident II is the primary submarine-launched nuclear ballistic missile for both the United States and Great Britain. The Multiple Independent Launch Vehicle system is designed to shower a wide area with up to 12 nuclear warheads from a single missile. The Trident II is expected to be the standard SLBM until at least 2040.