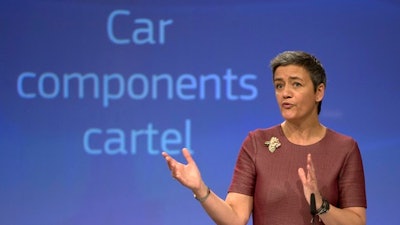 AP Photo/Virginia Mayo
BRUSSELS (AP) — The European Union said Wednesday it has fined six makers of car air conditioning and engine-cooling components a total 155 million euros ($163 million) for their involvement in supply cartels.
The EU's executive Commission said the suppliers — Germany's Behr, Japan's Calsonic, Denso, Panasonic and Sanden, and France's Valeo — all acknowledged their involvement in the cartels and agreed to a settlement.
The Commission said there were four separate cartels involving the supply of components to various automakers, among them the Volkswagen group, Daimler, Suzuki and Renault-Nissan.
It found that the companies coordinated prices or markets and exchanged sensitive information at meetings or in "other collusive contacts in Europe and Japan," by email or phone.
The components at issue in the cartels, which operated from as early as 2004 until 2009, included air conditioning units, compressors, engine radiators and fans.
EU antitrust chief Margrethe Vestager said the collusion "took place in Europe but also in Asia." The U.S. Department of Justice and Japanese authorities have also been looking into the matter, she added.
Denso wasn't fined over three of the cartels because it reported them to authorities, and Panasonic wasn't fined over one of them for the same reason.