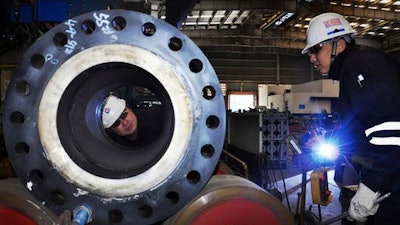 Chinatopix via AP
BEIJING (AP) — China started 2017 on a high note according to results of a survey released Wednesday that showed manufacturing expanded in January at close to its fastest pace in two years.
Heavy government spending and a boom in bank lending and real estate are helping to counter a slowdown that took growth in the world's second-largest economy to 6.7 percent last year, the weakest rate since 1990.
The National Bureau of Statistics' purchasing managers index showed manufacturing growth at 51.4 on a 100-point scale on which numbers above 50 indicate an expansion. That was down only slightly from November's two-year high of 51.7.
Forecasters expect growth to weaken further this year, however, as regulators try to cool what analysts warn is a dangerously fast run-up in debt and rising housing costs. The International Monetary Fund is predicting this year's growth will slow to 6.5 percent.
The latest data show a "relatively strong start to the year," Julian Evans-Pritchard of Capital Economics said in a report.
"The more important question is whether or not the current strength will be sustained," said Evans-Pritchard. "We doubt that it will be given how reliant the recent recovery has been on support from monetary and fiscal policy that is now being withdrawn."
Manufacturers have been battered by a slump in global demand for Chinese goods and steadily declining domestic economic activity.
Exports shrank by 7.7 percent last year compared with 2015 while growth in Chinese retail sales decelerated to 9.6 percent from the previous year's 10.6 percent.
Chinese leaders have used repeated infusions of credit to prevent a sharper slowdown, which has temporarily set back efforts to reduce reliance on trade and debt-supported investment.
A decline in construction spending as Beijing tightens controls in lending should weigh on demand for steel and other manufactured goods.
The health of Chinese manufacturing is important to other Asian economies that supply raw materials and industrial components and to exporters of oil, iron ore and other commodities such as Australia and Brazil.
Some individual indicators for new orders and other factors declined slightly in January, but "industrial operations remain in the boom range," said economist Zhang Liqun in a statement released by the NBS and an industry group, the China Association for Logistics and Purchasing.