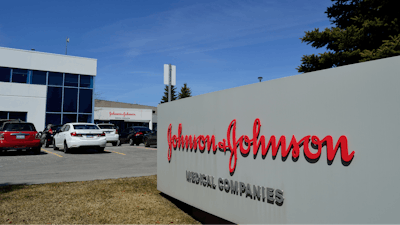 Open Grid Scheduler/Grid Engine, Flickr
GENEVA (AP) — Johnson & Johnson is buying Swiss biopharmaceutical company Actelion for about $30 billion, handing the U.S.-based health care products giant a chance to boost its presence in innovative biotech treatments.
Under the deal announced Thursday, the New Jersey-based maker of Band-Aids and prescription drugs says it will boost its portfolio of medicines and late-stage products in a complementary fit with Actelion's area of expertise.
The hard-wrought agreement after earlier failed talks comes as J&J has been picking its shots for acquisitions in recent months, and is by far the largest in a string of deals it has concluded in that span.
Under the arrangement, Actelion's research and development unit is to be spun off into a Swiss-based stand-alone company. J&J will own 16 percent of the spun-off R&D firm and have rights to an additional 16 percent.
Following the announcement of the all-cash offer of $280 per share, shares of Actelion Ltd. jumped around 20 percent to 273.10 Swiss francs Zurich trading. J&J said funding will come from its holdings outside the United States.
The deal, approved unanimously by both companies' boards, is to be completed in the second quarter, pending regulatory approvals, and J&J said it expects the deal to immediately boost revenues and earnings per share.
The companies have been trying to come to terms for at least two months, with J&J announcing talks in November that were ended in mid-December before being revived only a week later.
The deal comes just two days after J&J announced fourth-quarter profits that narrowly surpassed analysts' expectations, while giving Wall Street a softer-than-expected 2017 earnings forecast.
J&J said then that revenues had been helped in part by acquisitions. The New Brunswick, N.J.-based company made several deals in 2016, including a $3.3-billion purchase of hair and personal products maker Vogue International LLC.
In September, J&J — one of the 30 stocks that make up the Dow Jones Industrial Average — also announced a deal to buy the medical optics division of Abbott Laboratories, for $4.3 billion in cash.
J&J shares closed at $112.80, up $1.04, in New York Stock Exchange trading on Wednesday.