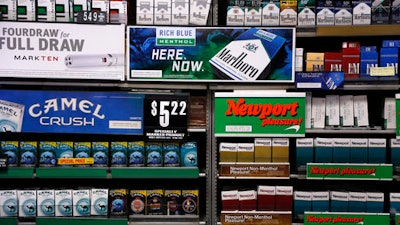 AP Photo/Gene J. Puskar, file
LONDON (AP) — British American Tobacco Plc has agreed to fully take over Reynolds American Inc. in a deal that will create the world's largest publicly traded tobacco company.
The $49 billion takeover was agreed on improved terms compared with an initial bid made last year. It would combine BAT's presence in developing countries, where anti-smoking campaigns are not as strong as in the U.S. and Europe, with Reynolds' almost exclusive focus on the U.S.
BAT sells Dunhill, Rothmans and Lucky Strike cigarettes, while Reynolds owns brands like Newport, Camel and Pall Mall.
"Our combination with Reynolds will benefit from utilizing the best talent from both organizations," BAT's chief executive, Nicandro Durante, said in a statement Tuesday. "It will create a stronger, global tobacco and (next generation products) business with direct access for our products across the most attractive markets in the world."
London-headquartered BAT will buy the 57.8 percent of Reynolds it does not already own. Reynolds shareholders will receive for each share $29.44 in cash and 0.5260 BAT shares.
That values Reynolds, which is based in Winston Salem, North Carolina, at $59.64 per share, or $49.4 billion for the stake to be acquired, BAT says.
"This is a big move, that makes a lot of sense for BAT," said Steve Clayton, a fund manager a financial services firm Hargreaves Lansdown. "They already had billions tied up in Reynolds, now they will have billions more, but with full control of the company and its cash flows. The United States is an attractive market, with good pricing dynamics, and BAT can also take Reynolds' portfolio of new generation tobacco products and sell them worldwide."
Reynolds traces its roots to 1875, when Richard Joshua Reynolds started a chewing tobacco company in what was then Winston, North Carolina. The company's links with British American Tobacco date to 2004, when R.J. Reynolds Tobacco Co. merged with BAT's Brown & Williamson unit, creating Reynolds American. BAT was left with a 42 percent stake in the new company.
The two companies already have a technology-sharing agreement in the development of electronic cigarettes.