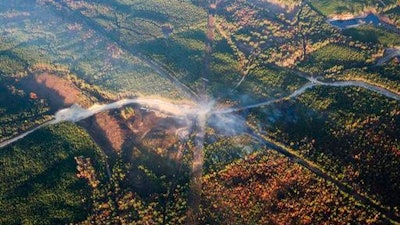 AP Photo/Brynn Anderson
HELENA, Ala. (AP) — A gas pipeline that exploded in Alabama last week is back in service, the pipeline company said Sunday.
Service was restarted at 5:45 a.m. Sunday on the pipeline that transports gasoline from the Gulf Coast to New York City, according to Colonial Pipeline Co.
The pipeline exploded Monday while a crew was making repairs related to a September gas spill, killing one person and injuring four others. It may take several days for the fuel delivery supply chain to return to normal after the service restoration, the company said.
Government officials and Colonial Pipeline have said a piece of excavation equipment hit the pipeline, causing the explosion, but further details haven't been released. Anthony Lee Willingham, 48, of Heflin, Alabama, died in the blast. Four other people were injured and remained hospitalized.
Colonial said it began excavating Wednesday night at the site, located about 25 miles southwest of Birmingham, Alabama.
The National Transportation Safety Board is investigating the pipeline rupture, conducting interviews, documenting the site and surrounding area and collecting physical evidence, the agency said in a news release. The investigators also plan to travel to Colonial's office in Alpharetta, Georgia, to speak to operations and engineering staff, review control room operations and collect data and documents.
Since Monday's explosion, gas prices had rose 7 cents in Georgia and 2 cents in Tennessee, Garrett Townsend with AAA in Georgia said in an emailed statement, but that restarting the line would help ease concerns about supply.