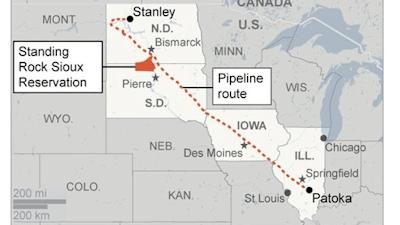 AP file
MANDAN, N.D. (AP) — Law enforcement officials fired at an unmanned aircraft and a group of Dakota Access pipeline opponents twice blocked a North Dakota state highway Sunday, capping a weekend of protests.
A helicopter helping monitor a protest against the four-state pipeline Sunday morning was approached by a drone in a "threatening manner," the Morton County Sheriff's Office said in a statement. An officer in the helicopter told law enforcement on the ground that the pilot and passengers were "in fear of their lives" and that the unmanned aircraft was going after them. Less-than-lethal ammunition damaged the drone, which was then landed by its operator.
Morton County Sheriff Kyle Kirchmeier said drones flying near protests and near where hundreds have been camping out in protest of the $3.8 billion pipeline are not being operated according to federal regulations and their investigations will be sent to the states attorney's office for possible charges. Two people operating drones during the protests have already been charged.
Also Sunday, protesters put up two roadblocks on State Highway 1806. The first, which went up about 2 p.m., was made of barbed wire, cars and later hay bales, tree stumps and logs. Law enforcement authorities spoke with protesters, and the blockade came down before 5 p.m. A second roadblock, made with vehicles, campers and a state Department of Transportation message board was still up as of 5:30 p.m. Sunday, the sheriff's office said in a statement.
Texas-based Energy Transfer Partners is building the $3.8 billion pipeline, which crosses through North Dakota, South Dakota, Iowa and Illinois. Opponents worry about potential effects on drinking water on the Standing Rock Sioux's reservation and farther downstream on the Missouri River, as well as destruction of cultural artifacts.
Sunday's demonstrations come after 126 people were arrested Saturday during a large protest at a pipeline construction site. More than 260 people have now been arrested since demonstrations began in August.
The sheriff's office also said Sunday that 100 protesters have put up temporary structures, like tents, on private property along the pipeline construction route.
A protest organizer did not immediately respond to request for comment.