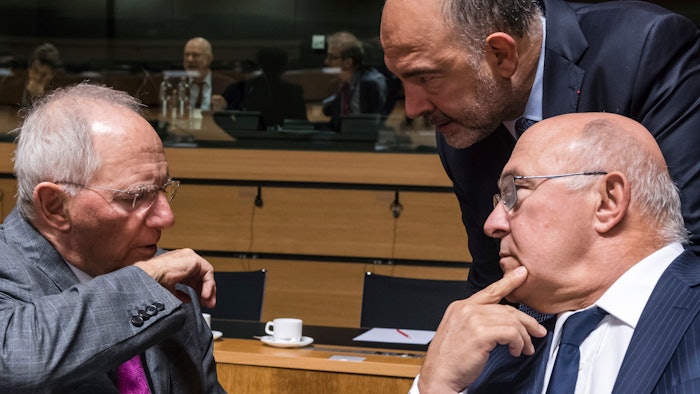 AP Photo/Geert Vanden Wijngaert
LONDON (AP) — Industry looks set to give third-quarter economic growth in the 19-country Eurozone a lift after figures Wednesday showed output up a whopping 1.6 percent in August alone.
The increase reported by Eurostat, the European Union's statistics agency, more than offset the previous month's 0.7 percent decline. Expectations were already high at 1.5 percent on account of a 3.1 percent rebound reported by Germany.
The scale of the increase across the Eurozone— the biggest since January — is welcome news for a region that has seen growth ease this year from a quarterly rate of 0.6 percent in the first quarter to 0.3 percent in the second. Few economists are expecting a return to the healthy first-quarter tick anytime soon — even after the industrial production figures.
Still, there will be relief that the sector, which when combined with construction accounts for around a quarter of the Eurozone's GDP, looks set to help third-quarter growth. On a year-on-year basis, Eurostat said the sector was 1.8 percent bigger in August.
The first estimate of overall economic growth during the July to September period will be published at the end of October.
Fears had been raised that growth would grind to a halt in the wake of Britain's vote to leave the EU in June.
Wednesday's figures suggest that those concerns may have been overdone, though the sharp fall in the pound against the euro since the vote — particularly over the past week or so — is likely to weigh on Eurozone exports to Britain in the months ahead.
And uncertainties over the future trading relationship between the EU and Britain as well as concerns over the future of the EU itself haven't gone away, meaning the region remains susceptible to a drop in confidence.
The industrial figures also have a tendency to be volatile, so economists are careful not to read too much into one month's data. Many think the outlook for the sector remains problematic.
"With the impact of the U.K.'s Brexit vote weighing on demand for Eurozone exports, and higher oil prices raising manufacturers' costs, we do not expect industry to provide a major boost to the region's economic recovery," said Jack Allen.