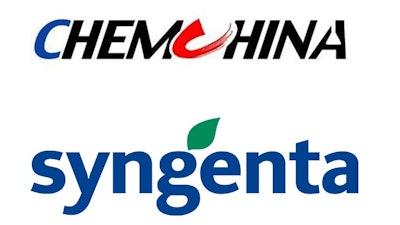 BEIJING (AP) — China National Chemical Corp. said Monday a U.S. national security panel has cleared its proposed acquisition of Swiss agrochemicals giant Syngenta.
The $43 billion acquisition still requires approval from anti-trust and other regulators in the United States and other countries, the state-owned company, also known as ChemChina, said in a two-sentence statement.
If completed, the deal would be the biggest foreign acquisition to date by a Chinese company. Shares in Syngenta jumped over 11 percent to 423 Swiss francs on Monday's news of the security clearance.
A group of U.S. legislators called in March for a review by the Committee on Foreign Investment in the United States. They cited the potential for "risks to our food system" and the U.S. agriculture industry.
CFIUS, led by the U.S. Treasury Department, has objected to a handful of Chinese purchases of U.S. technology industries but almost all acquisitions have been approved. Still, mergers consultants say the prospect of undergoing a CFIUS review has put off some potential Chinese buyers of U.S. assets, making acquisitions in Europe and other markets look more attractive.
The Syngenta bid comes amid a spree of global acquisitions by Chinese companies that are looking for technology, brands and new markets to speed their development.
ChemChina Chairman Ren Jianxin is China's most aggressive global dealmaker and has spent more than $60 billion on acquisitions since 2010. They include Italian tire brand Pirelli, Norwegian chemical supplier Elkem and KraussMaffei, a German industrial machinery maker.
Ren has said he hopes to expand Syngenta's presence in China and other emerging markets.
The Syngenta deal is also part of a shake-up of the global agricultural and chemical industry as tumbling commodity prices squeeze spending by farmers.