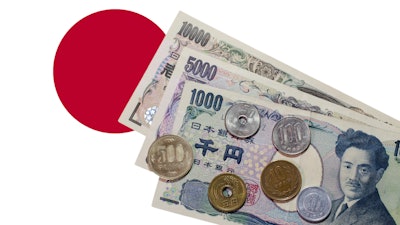 TOKYO (AP) — Japan's economy appears to be weakening as exports fell 10 percent and imports plunged 23 percent in April, while a monthly survey of factory managers showed the sharpest deterioration in operating conditions in over three years.
Customs figures released Monday show Japan posted a trade surplus of $9.1 billion in April, compared with a deficit of $532 million a year earlier. A stronger yen exaggerated the drop in exports, but shipments fell in volume terms, too. The declines were seen in key industries, such as industrial machinery and vehicles.
The biggest drop in imports was a 49 percent decline in purchases of oil, gas and other fossil fuels. But imports of electrical machinery, food, raw materials and chemicals also fell. Meanwhile, the key figure in a monthly survey of factory managers fell to 47.6 in May from 48.2 in April. A reading of 50 marks the line between contraction and expansion.
Economists said the latest data suggest exports will fall further in the current quarter.
"The slump in export prices will remain a drag on export values for a while yet, undermining corporate profits and business sentiment," said Marcel Thieliant of Capital Economics. Japan's trade with China sank 38 percent in April from a year earlier, with exports falling 7.6 percent and imports tumbling nearly 17 percent.
Exports to the U.S., Japan's largest overseas market, dropped almost 12 percent from a year earlier, though shipments to the European Union climbed nearly 10 percent. Exports to Asian markets, including China and Southeast Asian countries, which account for just over half of the total, dropped 11 percent. The financial newspaper Nikkei's preliminary, or "flash," purchasing managers index showed declines in new orders, output and purchases.
Amy Brownbill, an economist at Markit, which compiles the survey, said an earthquake in April in southern Japan's Kumamoto region contributed to the slowdown. "One of the primary reasons for the fall in total new orders was a marked contraction in foreign demand, which saw the sharpest fall in over three years," she said.