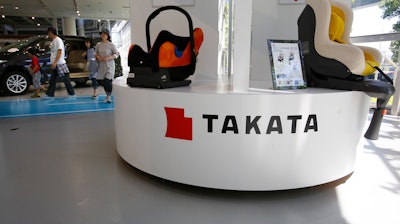 AP Photo/Shizuo Kambayashi
TOKYO (AP) — Japanese auto parts maker Takata Corp. is expecting a loss instead of a profit for the fiscal year that ended in March because of ballooning costs from a massive global air-bag recall.
Tokyo-based Takata, which is set to give its earnings report Wednesday, said Monday it is projecting an annual net loss of 13 billion yen ($120 million). The Japanese manufacturer, which also makes seat belts, had earlier forecast a profit of 5 billion yen ($46 million). It had racked up a loss of 29.6 billion yen the previous fiscal year.
The U.S. National Highway Traffic Safety Administration said last week that it's adding up to 40 million Takata air bags to the ongoing recall of 28.8 million air bags. Inflators inside the air bags can explode with too much force and spew shrapnel into the vehicle. The inflators are responsible for at least 11 deaths worldwide and more than 100 injuries. It is still unknown exactly how many air bag inflators have to be recalled globally as each automaker must deal with the the latest NHTSA decision.
The global recall previously totaled about 50 million inflators, but it's likely to expand to more than 100 million, adding to the already biggest recall in U.S. history. Because of the sheer numbers involved, it will take years to manufacture replacement parts. Takata also lowered its annual sales projection to 718 billion yen ($6.6 billion) from the previous 720 billion yen ($6.7 billion).
Many automakers, including Toyota Motor Corp. of Japan and U.S. automaker Ford Motor Co., have said they will stop using Takata inflators in future models. Honda Motor Co., Takata's biggest customer, said Monday it does not know yet how many more recalls will be added globally because of the latest NHTSA decision.
Honda President Takahiro Hachigo has ruled out any independent financial bailout, despite speculation over a rescue package for Takata due to the mounting recall, liability expenses and other costs.
Unlike most air-bag makers, Takata's inflators use the chemical ammonium nitrate, but what exactly causes the explosions is still unknown. NHTSA says it takes a minimum of six years for the chemical to become unstable in high humidity regions. As cars age, the risk grows, especially in areas where temperatures frequently cycle from cool to hot, according to NHTSA.
Authorities in Malaysia have begun an investigation into two more recent deaths in cars with Takata air bags that ruptured.Takata shares dipped early Monday on speculation over the growing recalls but finished little changed, down 0.3 percent in Tokyo.