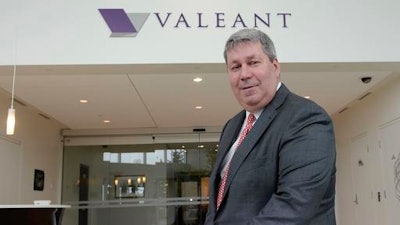 Ryan Remiorz/The Canadian Press via AP, File
WASHINGTON (AP) — Billionaire investor William Ackman will defend Valeant Pharmaceutical's embattled business model at a congressional hearing Wednesday, while acknowledging the company made "significant mistakes" in hiking drug prices, according to his prepared testimony.
The Senate Committee on Aging is holding its third hearing on drastic price hikes by Valeant and a handful of other drugmakers that have stoked outrage from patients, physicians and politicians nationwide.
The committee is scheduled to hear from Valeant's outgoing CEO, J. Michael Pearson, its former chief financial officer, Howard Schiller, and Ackman, whose hedge fund holds a large stake in Valeant and controls two seats on its board of directors.
Lawmakers, including the committee's ranking Democrat, are expected to accuse Valeant of rewarding investors at the expense of patients and U.S. the health care system.
"The notion that we can sit idly by while smart people on Wall Street can do ledger entries to create another layer of profit in the health care sector to benefit multimillionaires on the backs of patients and ultimately taxpayers can't continue," states an opening statement by Sen. Claire McCaskill, D-Missouri.
Valeant's stock surged in recent years, fueled by its strategy of gobbling up smaller companies and raising prices on niche drugs — bypassing the huge research and development investments typical of the drug industry.
Ackman will tell lawmakers this "low-cost and disciplined" business model made Valeant a smarter investment than other drugmakers, according to his prepared remarks provided to The Associated Press.
"A number of observers have suggested that the more a pharmaceutical company spends on R&D, the better for society. We do not believe this to be true," states Ackman's written remarks. Ackman, whose hedge fund controls $12 billion, goes on to say that Valeant's strategy can do "more for innovation in pharma by acquiring other drug companies" than by developing its own drugs.
However, he says that certain drastic price hikes — including those that first attracted congressional scrutiny — were mistakes that have caused "great reputational damage."
Ackman vows to use his influence to make sure that approach to pricing "is never repeated at Valeant."
Pearson is also expected to express regrets for the price hikes, specifically raising prices on two life-saving heart drugs by more than 300 percent and 700 percent, respectively.
In prepared testimony, Pearson states that he was "too aggressive" in pursuing acquisitions aimed solely at increasing drug prices.
"Let me state plainly that it was a mistake to pursue, and in hindsight I regret pursuing, transactions where a central premise was a planned increase in the prices of the medicines," Pearson will state, according to written testimony.
The comments come shortly before Pearson is to be replaced as Valeant CEO, and may not win much sympathy from Senate lawmakers.
Valeant announced Monday that it would replace Pearson as CEO early next month with Joseph Papa, CEO of generic drugmaker Perrigo Co.
In recent months, Valeant has been swamped by a host of problems including three ongoing federal probes of its accounting and pricing practices, massive debt and the threat of default on agreements with creditors and bondholders.
The intense scrutiny of the Laval, Quebec-based company has triggered repeated sell-offs of Valeant shares, which have lost nearly 90 percent of their value since peaking last August.