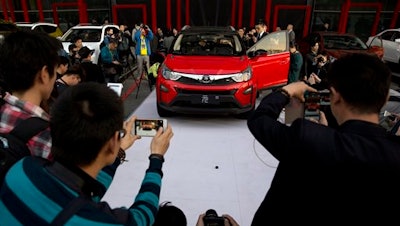 AP Photo/Ng Han Guan
HONG KONG (AP) — Chinese auto sales rose by nearly 10 percent in March, led by strong demand for SUVs that more than offset slipping passenger car sales, an industry group said Tuesday.
The China Association of Automobile Manufacturers said that 2.06 million sedans, SUVs and minivans were sold last month in the world's biggest auto market. That's 9.8 percent higher than the same month last year.
The group said sales of sport-utility vehicles rose by nearly half and minivan sales increased nearly 18 percent. Sedan sales, however, dipped 3.3 percent.
Total vehicle sales, including trucks and buses, rose 8.8 percent to 2.4 million.
China's auto sales growth has been cooling since it peaked at 45 percent in 2009 but the country remains a key market for global automakers, which are relying on Chinese consumers' growing appetite for driving to power revenue.
Auto sales in China totaled 21.1 million units last year, hit by an unexpectedly sharp contraction last summer that unsettled carmakers. Sales rebounded after Beijing responded by cutting taxes in September on vehicles with small engines.
Sales of China's lower-priced homegrown car brands nearly kept pace with the market's overall growth, expanding 8.5 percent last month. Chinese-brand passenger sedan sales fell 21 percent but SUV sales jumped 46 percent and minivan sales rose 19 percent.
— General Motors Co. said deliveries of GM-branded vehicles by the company and its Chinese partners slipped 0.6 percent to 296,939 in March. SUV deliveries jumped 124 percent compared with last year and Cadillac sales grew 14 percent.
— Ford Motor Co. sales rose 5 percent to 114,788, with SUV sales surging 29 percent. The company's Lincoln brand, which only entered China recently, reported that sales in the first quarter tripled to 5,484.
— BMW AG deliveries, including vehicles under its Mini brand, rose nearly 11 percent to 127,105.