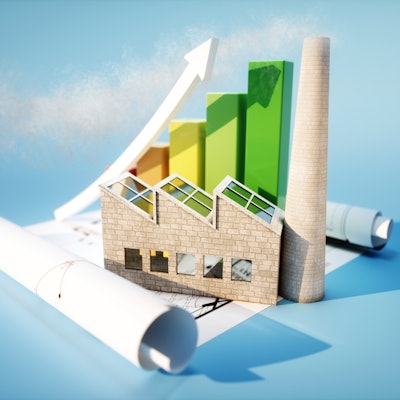 Economic activity in the manufacturing sector expanded in March for the first time in the last six months. Additionally, according to the latest ISM Report On Business, the overall economy grew for the 82nd consecutive month.
The report was issued by Bradley J. Holcomb, CPSM, CPSD, chair of the Institute for Supply Management (ISM) Manufacturing Business Survey Committee. The following is a summary of Holcomb's findings:
The March Purchasing Managers Index (PMI) registered 51.8 percent, an increase of 2.3 percentage points from February and the first reading above 50 since August. A PMI above 43.2 percent generally indicates an expansion of the overall economy.
The New Orders Index registered 58.3 percent, an increase of 6.8 percentage points from the February reading, and indicating a growth trend for the third consecutive month.
The Production Index registered 55.3 percent, 2.5 percentage points higher than February, indicating faster growth for the third consecutive month.
The Employment Index registered 48.1 percent, 0.4 percentage points below the February reading of 48.5 percent. This shows contraction in employment for the fourth consecutive month, and at a faster rate of contraction than in February.
Inventories of raw materials registered 47 percent, an increase of 2 percentage points above the February reading, which shows that raw materials inventories contracted for the ninth consecutive month.
The delivery performance of suppliers to manufacturing organizations was slower in March, coming in at 50.2 percent – half a percentage point higher than February.
The Customers' Inventories Index registered 49 percent in March, an increase of 2 percentage points from February, indicating that customers' inventories are considered too low for the second consecutive month.
The Prices Index registered 51.5 percent, an increase of 13 percentage points above the February reading, indicating higher raw materials prices for the first time since October 2014.
12 of the 18 industries being tracked reported sector growth, including machinery, plastics and rubber products, food, beverage and tobacco products, fabricated metal products, chemical products, paper products, primary metals and computer and electronic products.
The five industries reporting contraction included electrical equipment, appliances and components, transportation equipment and petroleum and coal products.
The Backlog of Orders Index registered 51 percent in March, an increase of 2.5 percentage points when compared to February, indicating growth in order backlogs for the first time since May 2015.
Holcomb also stated that, "The past relationship between the PMI and the overall economy indicates that the average PMI for January through March (49.8 percent) corresponds to a 2.1 percent increase in real gross domestic product on an annualized basis. In addition, if the PMI for March (51.8 percent) is annualized, it corresponds to a 2.7 percent increase in real GDP annually."