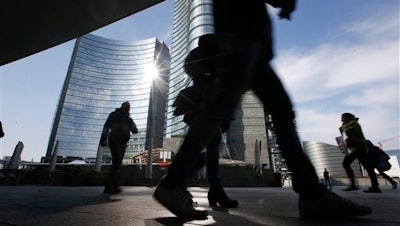 AP Photo/Luca Bruno
LONDON (AP) — Industrial output in the 19-country eurozone grew at its fastest tick in more than six years in January, official figures showed Monday — a welcome development but one many economists think could easily be reversed in coming months in light of the slowdown in the global economy.
The European Union's statistical agency said industrial output, which includes everything from energy extraction to the production of aircraft, rose by 2.1 percent in January. That's the biggest monthly increase since September 2009, when output grew 2.3 percent.
The increase was also more than anticipated — the consensus in the markets was for a more modest 1.6 percent gain. It also followed two straight declines, including a 0.5 percent drop in December.
The Eurostat figures showed that Germany, Europe's biggest economy, was largely behind the gain, with a 2.9 percent spike in output during the month. The other standout performer was Ireland, which saw output jump by 12.7 percent.
Analysts said manufacturers are benefiting from the lower euro, which makes their products more competitive in international markets. Low oil and raw material costs are also helping them price competitively.
Since industry accounts for around 20 percent of the eurozone economy, the January rise may be a boon to first-quarter growth figures, provided it's not undone in February and March — monthly industrial output figures are often volatile.
Jack Allen, chief European economist at Capital Economics, said January's rise is "probably just a blip" and that survey evidence suggests the sector "remains too weak to prevent the region's economic recovery from slowing this year."
That expectation of waning growth is one of the main drivers behind the European Central Bank's decision last week to ramp up its stimulus program. It hopes lower interest rates and an expanded bond-buying program will shore up growth and help inflation edge up.
The eurozone economy has been growing consistently over the past year or so within a fairly narrow, and relatively low, range. Few economists predict an uptick in the first quarter.
"We expect momentum to slow but, despite that, the sector looks to be on track to make a meaningful contribution to growth in the first quarter," said Cathal Kennedy, European economist at RBC Capital Markets.
January's figure means that industrial output across the eurozone was 2.8 percent on a year-on-year basis, a big turnaround from the 0.1 percent fall recorded in December.