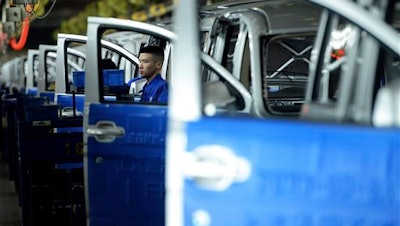 Chinatopix Via AP
HONG KONG (AP) — China's manufacturing outlook deteriorated in February, according to two surveys of factory activity released Tuesday, a day after Beijing loosened credit to counter sluggish conditions in the world's second biggest economy.
An index based on an official survey of factory purchasing managers declined to 49.0 in February from 49.4 in January in the seventh straight month of contraction.
The index has not been at a lower level in seven years; it fell to 45.3 in Jan. 2009 as the global financial crisis was unfolding.
The reading by the China Federation of Logistics and Purchasing is based on a 100-point scale with the 50 mark dividing expansion from contraction.
Separately, a private survey also showed further weakening in manufacturing.
The Caixin/Markit purchasing managers' index slipped to a five-month low of 48.0 last month from 48.4 the previous month.
"The index readings for all key categories including output, new orders and employment signaled that conditions worsened, in line with signs that the economy's road to stability remains bumpy," said He Fan, chief economist at Caixin Insight Group. He said the government faces more pressure to continue rolling out "moderate" stimulus policies to prevent growth from slowing too sharply.
The latest such move came Monday night when the central bank freed up more money for lending by cutting the amount banks need to hold in reserve.
Caixin's survey mostly covers smaller, private enterprises while the federation report focuses on larger, state-owned companies.
Economists cautioned the numbers were distorted by the Lunar New Year holiday, which falls at different times in the first two months of the year. Factories typically stock up on raw materials and scramble to fill orders before shutting for an extended break that began this year in early February.
Attempting to iron out the distortions, ANZ Bank economists Raymond Yeung and Louis Lam noted that the official index's average for January and February together was 49.2, which still indicates contraction.
There was some better news for China's services sector, with an official survey of non-manufacturing business activity slipping but continuing to grow last month, coming in at 52.7 from 53.5 in January. Services have helped offset manufacturing weakness in China's economy, which last year posted its slowest expansion in a quarter century as growth ebbed to 6.9 percent.
China's economic slowdown comes as policymakers in Beijing try to wean the economy off a tired model based on manufacturing and investment and refocus it on self-sustaining services and domestic consumption.