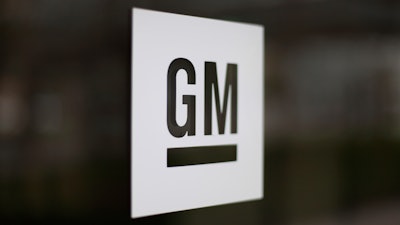 DETROIT (AP) — If you're an automaker, especially one from Detroit, conditions probably aren't going to be better for you to make a lot of cash.

For General Motors, that's what happened last year as the company posted a record $9.7 billion net profit.

Yes, a good chunk of that was a $3.9 billion one-time accounting gain due to better prospects in Europe, but the company still made billions on booming sales of its strong lineup of SUVs and trucks, mainly in North America.

Earnings were so strong that most of GM's 49,600 hourly workers will get $11,000 profit-sharing checks on Feb. 26. The checks were based on North American pretax earnings, which hit a record of just over $11 billion for the year.

Despite the profits, GM's stock didn't get much respect. Shares fell 94 cents, or 3.1 percent, to $28.71 in morning trading Wednesday. Investors haven't been kind to auto stocks of late. Even with record profits, GM shares are down more than 16 percent in the past year, and are more than $4 below the company's initial public offering price of $33 in November of 2010.

Excluding special items, GM earned $5.02 per share for the year, beating Wall Street estimates of $4.82. Profits were fueled by strong SUV and truck sales largely in North America. GM benefited from gas prices at or below $2 per gallon for much of the year, which pushed buyers toward larger, more profitable vehicles.

Full-year revenue fell just over 2 percent to $152.4 billion, but still beat analyst estimates of $144.9 billion.

"We continue to strengthen our core business, which is laying the foundation for the company to lead in the transformation to personal mobility," CEO Mary Barra said in a statement.

GM recently invested $500 million in ride-hailing service Lyft and has announced plans to start its own car-sharing services in metro areas worldwide as it prepares for the next generation of transportation.

For the fourth quarter, GM posted a profit of $6.3 billion, including the accounting gain in Europe. GM expects to break even there this year and took the gain because prospects for making money are good.

Without special items, the company earned $1.39 per share, beating estimates of $1.20. Fourth-quarter revenue was flat at $39.6 billion, just below Wall Street estimates.

In Europe, GM lost $298 million before taxes, narrowing the loss from last year. International operations including China made $408 million, while the company lost $47 million in South America.

Chief Financial Officer Chuck Stevens said he wasn't worried about the full year drop in revenue, blaming currency fluctuations for about a $10 billion decline. "Size for size sake is not something that drives us," he said. "Growing profitability is much more important to us than growing revenue."

The company, he said, also doesn't expect an economic downturn in the U.S. anytime soon because economic fundamentals are still strong. Still, the company will maintain a low break-even point, seek cost efficiencies and control inventory levels to prepare just in case. "We believe we are well positioned for the downturn. We just don't think it's going to happen anytime soon."

The stock drop came even though GM has increased its dividend and raised its stock buyback program to $9 billion. During the year it returned $5.7 billion to shareholders including $3.5 billion in stock buybacks and $2.2 billion worth of dividend payments.

Stevens said the stock market should respond if the company keeps meeting commitments and following its plan.

"We're confident that if we execute the plan and continue to build that track record, we'll drive shareholder value and it will be reflected in the share price," he said.