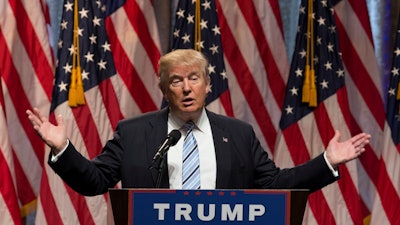 iStock
If you haven't been paying attention over the last three years, the President loves to handle the daily business of the nation on the golf course. And preferably on one of the 19 golf properties, he owns under the Trump Golf banner. While he's been away from the game for some time during the COVID-19 Pandemic and lockdowns, he just recently returned to one of his golf properties in Virginia for his first round on the links since mid-March.
The 45th President has caused quite a storm in recent months with his rigid and unrelenting trade policies, going to war with longtime trade adversaries such as China, but also not afraid to mix it up with allies such as Japan and Mexico. If you are looking to understand further how golf affects the President's decision making concerning trade, it is best to know Trump's affection for the game and the lengths in which he goes to win.
Trump Plays Golf His Own Way: Win at All Costs
President Donald Trump loves to play golf quickly. He always rides in his cart alone, save for a few times he'll let his caddie aboard. He never waits for others to finish their shots off the tee before he's racing down the fairway looking for his ball. Chances are if he's not in the fairway after his tee shot, by the time you get to his spot on the course, he's moved the ball out of danger.
He cheats because he loves to win, and frankly, the people that play with him don't care at all. Most love having the experience of playing with Trump just so that they can tell others about what it was like to play with the President. Sportswriter Rick Reilly wrote a book about Trump's behavior on the course, titled Commander in Cheat: How Golf Explains Trump. In the book, Reilly quotes pro golfer Brad Faxon as saying, "You've heard so much about (Trump cheating on the course), it's almost like you want to witness it so you can tell the stories."
But golf prides itself as a game of honor and integrity. Professional golfers who cheat are regularly blacklisted among their peers and shunned. Yet, golfers like Tiger Woods, Dustin Johnson, and Rory McIlroy frequently play with Trump, and all acknowledge that he takes his mulligans by the handful.
So, why do they do it? Truth is Trump is known as a delight to play with, regularly taking playful jabs with playing partners, but while they may lose focus in the haze of his charm, the President is going for the kill.
His approach to trade is no different.
How Trump Uses the Golf Course to Negotiate
The apparent reason that trade is so essential to a country is that it can work to alleviate conflicts on other fronts such as defense or aid. Trade fosters relationships and brings nations together, making them allies in most instances. On the surface, these reasons are why avoiding a trade war is essential, but that nuance is lost on President Trump. Instead, he looks to the hypothetical trade scoreboard, and the numbers he sees has the United States losing in a significant way.
Leaders of other nations have listened to Trump's bluster in the media, primarily when he aims his frustration at their specific country. In the case of Japan, Prime Minister Shinzo Abe immediately accompanied Trump on the golf course during his visit after the President imposed tariffs on Japan's aluminum and steel industry.
Japan's exports to the world had fallen by five percent over the first half of 2019 due to Trump's tariffs. Abe's overtures that day on Trump National Golf Club in Virginia fell on deaf ears as the Prime Minister learned, as other leaders have over the first three years of the Trump Presidency, that Trump won't stop until he believes he and the United States have won the deal.
How Golf Products Have Survived the Tariffs
One of the biggest fears for the golf industry occurred when President Trump's administration served up their first wave of tariffs to China. The $250 billion in tariffs appeared to cut a broad swath impacting tens of thousands of products.
The United States imports over 70 percent of all golf clubs from China, and, if Trump's tariffs added hundreds of dollars to the retail price of a new set of sticks, then the industry could see new club purchases plummet, costing the industry millions of dollars annually. However, golf clubs and golf balls were both spared by the Trump administration as they were two of roughly 2,500 products kept from additional tariffs. But not all golf products were as lucky as clubs and balls, as a host of other items fell victim to the wave of tariffs.
Imported golf hats, golf bags, and maintenance parts for mowers and clippers had tariffs placed upon them, causing small businesses across the country to feel the sting of the renewed trade war. Some of the largest golf sportswear companies in America, such as Adidas, Under Armour, and Nike, joined a group of 170 shoe retailers in writing a joint letter to the President, pleading for a repeal of the tariffs to China.
The companies wrote that "adding a 25 percent tax increase on top of these tariffs would mean some working American families could pay a nearly 100 percent duty on their shoes." The United States imported close to $11.4 billion in shoes from China in 2018 as the companies relied heavily on the far east country to provide cheap labor to produce affordable footwear.
The Trade War Ends Only One Way
For Trump, regardless of the complaints from small businesses around the United States, the trade war is about supremacy in the world. Much like how he attacks the golf course, the President will stop at nothing to win on a global stage. When attempting to gauge how future trade wars will proceed, analysts would be wise to learn how Trump's behavior on the links fuels his entire presidency. Now that the COVID-19 restrictions on heading to the course are beginning to ease, look for the President to continue to tee it up.
Jordan Fuller is the Editor-in-Chief of golfinfluence.com.