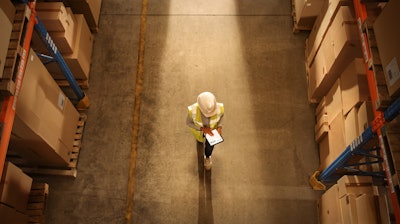 iStock
Supply chain resiliency and overcoming disruption have been hot topics coming out of the pandemic. The supply chain is the lifeline of a company and is key for operational success. It's what delivers a product or service to the end customer, and without proper management, it can present a major risk to the bottom-line as well negatively impact the trust consumers have in a brand.
Disruptions happen; it's part of life. Some are predictable like supply shortages and shipping delays. Others are more difficult to plan for like a pandemic, a ship blocking the Suez Canal or the hacking of a global oil pipeline.
There are countless threats lurking that can disrupt an organization's supply chain and this is exacerbated in the manufacturing industry. In fact, a recent survey found that only 10% of supply chain professionals feel extremely prepared for future disruptions.
When looking at disruption, it's not just about product delays - disruption impacts the entire ecosystem and has a domino effect that ultimately forces organizations to scramble for quick solutions.
The future state of manufacturing operations needs to be built on a culture of visibility across silos and collaborative teams. Organizations must also commit to continuously evaluating and working to break down these silos with a thoughtful change management process.
Leadership must first and foremost enable manufacturing teams to identify and solve their own technology problems. This is typically done in close partnership with centralized technology teams and keeping business teams moving quickly with appropriate governance. For instance, selecting tools and vendors that are robust and scalable or adhering to data and security policies. Manufacturing teams are advised to take a crawl-walk-run approach to develop broader agility and resiliency, which will overall help mobilize when there is disruption.
Small wins can overall increase confidence and build momentum towards larger transformation. The below outlines two areas organizations can focus on first to make its supply chain within the manufacturing industry better prepared to adapt to unforeseen circumstances.
Increase visibility through collaboration and automation
Organizations need to rethink existing supply chain practices and technological abilities to prioritize transparency and resilience. This can be achieved by automating formerly manual processes, which provides better visibility for teams whether it be order management, inventory or procurement processes.
Gaining more visibility across the organization ultimately gives everyone within the wider supply chain network insight into what is happening when providing more informed decisions and faster reaction times.
To get started, manufacturing teams can begin by identifying two to three manual or inefficient workflows to tackle in the short-term. Let's look at new product launches.
Here, multiple teams are responsible for delivery of key milestones to meet an agreed upon launch date. With some teams focused on preparing the manufacturing floor and needed equipment while others working on outstanding quality issues. It can be challenging for program management leaders to understand a real-time roll up of actual (versus planned) work complete.
Additionally, launching a new product requires the supply chain teams to identify whether they have the appropriate facility space and equipment. And from a procurement perspective, they need to ensure they're working with suppliers that can provide the materials they need and the right quality and quantity.
Centralizing unique processes and operational data allows multiple teams to track action off shared insights real-time and this is how teams mobilize to streamline execution in previously siloed environments.
Extend core systems with agile technology
Enterprise resource planning (ERP) and core systems are core systems for a reason. They're proven resources used by thousands of businesses. Yet they are often not equipped to handle situations when workflows change or data must be modified.
Recent events have continued to highlight how the global economy, and the global supply chain, can shift at any moment. This is because ERP systems are both costly to customize and time-consuming to implement. Business teams are left frustrated by time to delivery and misinterpretation of requirements.
To extend the use cases of your core systems, organizations need to add a layer of agility on top of. These agility "layers" empower business users to create their own solutions and automated processes without the cost and time of a traditional approach (yet all the scale, security and governance features required).
This in turn gives teams unique opportunities to identify, escalate and resolve their own issues quickly and efficiently as well as adapt their processes as changes occur in the business. By adopting the right technology and giving business users that are closest to the work more agency over their workflows and processes, organizations are better prepared to solve issues as quickly and effectively as possible.
Concluding thoughts
Supply chain resilience can be improved by tightening the many quality workflows that must be executed in collaboration between a manufacturer and supplier. The corrective action process is often a joint plan of action documenting the steps suppliers will take to identify the root cause of issues and implement countermeasures. These types of 'exception-based' processes must be identified and tightened to keep manufactures at peak output both when quality KPIs are met.
In the supply chain world, one thing is clear: Change and disruption are always right around the corner. In order to not just survive but thrive, organizations must prioritize the right technology to enable constant iteration, learning and improvement, all without crippling the entire supply chain ecosystem.
Increased transparency and agility with your operations coupled with the right tools will allow you to quickly, safely and effectively adapt to changing circumstances. And as a bonus, it will drive greater productivity and efficiency and will positively impact your customer relationships.
Peter Rifken is a Principal Solutions Consultant at Quickbase.