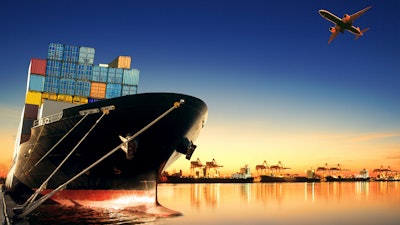 Manufacturers and their supply chain leaders are entering a unique period of time. As the world looks to get back on track, both socially and economically following a historic pandemic, new realities are being meshed with lessons-learned to formulate advanced inventory, production and sourcing strategies. Worthy of greater consideration, according to not-for-profit standards developer GSI US, is a circular approach to supply chains.
I recently sat down with Melanie Nuce to discuss what this type of plan would require and the impact it could have on supply chains across the globe.
Jeff Reinke, editorial director: If you looked at a manufacturer's current supply chain approach and compared it to January 2020, what do you think would be the biggest differences?
Melanie Nuce, Senior Vice President, GS1 US: If we were to flash back to January 2020, before COVID-19 had a presence on multiple continents, we would see a supply chain industry starting to become aware of the value of being more flexible and sustainable, but largely still focused on being efficient and lean. The pandemic changed our view. Not only has it exposed the need for agility to fulfill the changing needs of consumers, but the pandemic also brought consumer attention to the globally complex nature of the supply chain.
Linear supply chains deplete the availability of resources. If we view the Earth as a warehouse with resources as its inventory, every time we continue with the "take, make, waste" model of linear supply chains, we perpetuate the depletion and unsustainability of supply chains.
The consumer is more conscious of this than ever before and sustainability is a growing concern that needs to be addressed. Shoppers want to know about deeper product attributes such as organic cotton fabrics or how a product is made. Is the company using renewable energy? Is there humane treatment in the sourcing of leather? These are questions affecting purchasing decisions more and more.
JR: The COVID situation has led many manufacturers to take a hard look at re-shoring at least some of their production capabilities. Do you think we'll see a legitimate surge in U.S.-based manufacturing as a result?
MN: We do anticipate more companies will look at reshoring. A major challenge exposed during the pandemic was material and resource scarcity, which is often related to companies being too dependent on suppliers from a single region or location. Also, off-shore production necessitates long lead times for planning what will be manufactured and sold. Companies are not able to respond quickly to shifts in demand from consumers and supply chain disruptions. Supplier diversification and near-shore manufacturing have been successful mitigation tactics.
However, this should not be seen as the only way to solve supply chain resiliency challenges. Simply because a product has less distance to travel does not make it inherently more visible in the supply chain. There are other issues affecting resiliency, like compromised worker and consumer safety, that can happen just as easily domestically as they can overseas.
A key component of resilience and adding sustainability to a supply chain is to leverage a global language of standards that persistently and uniquely identify products and their journey from source to store, or source to consumer. Additionally, standards facilitate supply chain visibility by enabling the collection and exchange of transactional data to record a product's entire journey. Trading partner collaboration based on GS1 Standards enables efficiency and accuracy, so no matter where a product is sourced, manufacturers can communicate with partners to sense and respond to demand.
JR: Also getting more attention due to pandemic-related dynamics is manufacturers investing in IoT-based technologies at higher levels. How could these investments impact supply chain functions? Is there one technology that you see as particularly interesting or could have the most profound effect?
MN: There is an increased interest in IoT and sensor technology across the supply chain due to the pandemic because there have been fewer people able to oversee supply chain processes in person and the need for real-time event information about a product and the conditions that it is in as it moves throughout the supply chain.
In the not-so-distant future, "dumb" devices will be able to interact with smart devices, and assets that have connectivity can also have intelligence and automation enabled. If this trend continues, a core part of the discussion must be how to optimize the use of digital twins in manufacturing.
There's also the growing importance of digital twins, which replicate physical identity in digital visualizations, illuminating the journey of physical objects, and making it easier to detect counterfeits or recall products needing to be withdrawn. Digital twins also assist with component-level inventory management. Not only can you digitally identify the product in question, but you can also digitally identify the components of that product, which ultimately helps with recycling and reusing.
JR: Supply chain visibility has always been vitally important. What new challenges do you see rising on this front, post-pandemic?
MN: To be sustainable, to have traceability, to have confidence in the sourcing process – all of these use cases start with better visibility. What tends to be neglected in the visibility conversation is interoperability. Visibility and interoperability are vitally important to develop in tandem.
The pandemic showed us the value of collaboration, which leads to improved platform interoperability. Those companies with agile supply chains, that had already implemented GS1 Standards for data consistency and accuracy, and introduced more automation in their supply chains, were able to better anticipate shifts in consumer demand and make quick changes to production accordingly.
Knowing where products are at all times, at each step in the supply chain, allows key players to make faster decisions and shift products where they are needed. Standards combined with technology help manufacturers play a proactive role to minimize the impact of supply chain disruptions.
At a recent GS1 US webinar focused on traceability, we explored the impact of more consumers buying products online due to the pandemic. Just think of how unsatisfying it is to tear open a package and realize the product is fake, or of lesser quality than promised in the photos. We think digital identity can help the brand give the consumer more confidence that what is seen online is what they will receive.
We need to think about supply chain visibility in this holistic sense – the product should be traced at every junction, but it also needs to be accurately represented online. Being proactive about unique, persistent digital identification is a much better strategy to delight the consumer rather than simply budgeting for returns or giving up on fighting counterfeits.
JR: If you could provide supply chain professionals in the U.S. industrial sector with one gift, one wish granted, one super power, etc. what would it be?
MN: After the ups and downs of the past year, I think any supply chain professional would love to have a crystal ball to see how and when consumer behaviors will shift and when the next crisis will strike. There are many highly sophisticated and intelligent solutions out there that are getting pretty close to being the "crystal ball" we seek. We can't see the future, but we can build more resiliency into our supply chains so that we are prepared for disruptions.
To build resilient supply chains of the future, we must bridge short term "band-aid" solutions into long-term sustainable strategies. Future supply chain resilience will need to rely on circularity and standards coming together to transform vulnerabilities into opportunities. Through circularity, products, assets, and infrastructure will be made more productive as they are kept in use longer, and supply streams will ultimately benefit from the remanufacturing of new and existing resources.