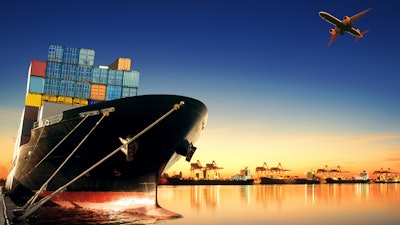 Although climbing vaccination rates and lower COVID infection numbers translate to a great deal of economic promise, the industrial sector still faces significant supply chain challenges. Whether it's raw materials for construction projects or electronic components for consumer goods and vehicle production, manufacturers are confronted with "new normals" on an almost daily basis.
I recently sat down with Colin Elkins, Vice President of Manufacturing Industries' at leading ERP and PLM software provider IFS, to discuss these factors. Elkins feels that recent events help demonstrate how just-in-time supply and demand is no longer feasible, and offers views on how technology and new manufacturing principles, such as Demand Driven Material Requirements Planning (DDMRP), are now more critical then ever to ensure uninterrupted flows of goods and services.
Jeff Reinke, Editorial Director: If you looked at a manufacturer's current supply chain, and compared it to January 2020, what do you think would be the biggest differences?
Colin Elkins, Vice President of Manufacturing Industries' - IFS: From the complexities of COVID-19 vaccine production to the graphic pictures of a heavily-laden container vessel stuck in the Suez Canal, recent events have demonstrated that there have been some major issues affecting the manufacturing supply chain since January 2020. Most notably it is clear that a manufacturer's supply chain can be severely disrupted by events on the other side of the world, and consumers are now more aware of the essential role supply chains play in the products and services they purchase or receive.
Our supply chains need to be much more dynamic than they were at the beginning of 2020, and new risks need to be factored into continuity plans. This means that companies will need to move from just-in-time manufacturing to a more dynamic, demand-driven supply chain environment that focuses on planning for different scenarios, pre-empting pain points, and finding solutions to problems before they arise.
Another key difference is the growing traction of one practice in the industry—Demand Driven Materials Requirement Planning (DDMRP). DDMRP is a planning practice that helps to mitigate disruptions in production when there is an unexpected spike in demand.
For example, during the coronavirus crisis, unexpected shortages from suppliers became the main cause of disruption. This method of resource planning sees stock not as waste, but as strategic inventory buffers so automakers can plan for uncertain events and increase supply chain and production agility.
JR: The COVID situation has led many manufacturers to take a hard look at re-shoring at least some of their production capabilities. Do you think we'll see a legitimate surge in U.S.-based manufacturing as a result?
CE: President Biden's order to review foreign supply chains is clearly indicative of a wider shift to reshoring sparked by the pandemic. However, reshoring is not a silver bullet that solves all supply chain challenges for manufacturers—and the success of reshoring strategies will be dependent on the resources the U.S. can cultivate.
In the current state, the U.S. lacks rare earth minerals such as cobalt used in the batteries for electric vehicles, so reliance on other nations is inevitable—at least in the short term.
As America looks to become more independent, we may however see growing impetus being placed on the reuse, recycling, and recovery of key materials, catalyzing the growth of the circular economy and giving rise to a surge in U.S.-based manufacturing—but there are still a few hurdles that manufacturers will need to overcome in order to secure this position.
I don't see a significant decline in Asia output in the short term as the U.S. is too reliant on their imports and cannot simply switch on the volume of manufacturing or sourcing from elsewhere that quick, and that would be needed to have any significant impact. Also, certain materials like rare earth metals are still not mined and produced in significant volumes apart from Asia—specifically China.
JR: Also getting more attention due to pandemic-related dynamics is manufacturers investing in IoT-based technologies at higher levels. How could these investments impact supply chain functions?
CE: With the future of demand still uncertain, and the threat to workforce shortages remaining high, investments in IoT-based technologies, such as AI-driven production robots and remote assistance for asset management and maintenance, will be crucial in helping manage supply chains more efficiently, particularly when it comes to remote working and limiting exposure to contagions.
However, I believe that flexible enterprise resource planning systems with project management capabilities could have the most profound effect in helping manufacturers manage supply chains more effectively and keep production running smoothly, regardless of potential resurgence or other disruptions.
Manufacturers can use a capable ERP system, that relies on daily inventory metrics and external demand indicators, to accurately predict unexpected demand spikes or supplier shortages, extend a project timeline as a program target date is moved or communicate the shifting timetable to vendors—ensuring that future supply chain disruptions are kept to a minimum.
JR: Supply chain visibility has always been vitally important. What new challenges do you see rising on this front, post-pandemic?
CE: As manufacturing activity, shipping and the supply chain have been disrupted from the pandemic, many industries will find that replacement parts, components and subcomponents required for service provision may be in short supply.
In a post-pandemic environment, this means manufacturing companies will need excellent visibility into what parts they have in stock—not only in warehouses, but on service vehicles, at drop sites and at customer sites. This will require a reliance on enterprise solutions that can provide manufacturers with the type of visibility that upholds its customer experience standards—from ensuring that an outcome is achieved, a preventative or predictive maintenance visit is effective, or a first-time fix is achieved.
The significant interests and increasing use of circular economy strategies will also have an effect on global supply chains as manufacturers seek to retain as much of the materials in the supply chain as possible, and avoid the purchase of virgin materials. This retention of materials will obviously reduce the sourcing needs.