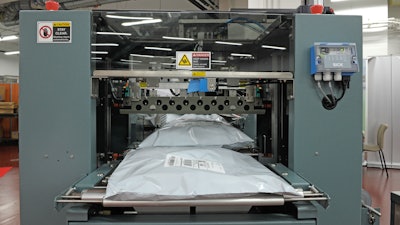 UPS and Sealed Air Corporation recently announced the opening of a Packaging Innovation Center in Louisville, Kentucky. The Center sits on the massive UPS Supply Chain Solutions campus, near the Worldport Air Group global headquarters. The sheer size and conglomeration of resources at this site allows UPS to stock inventory, process orders and ship directly for thousands of customers.
The Center will focus on solutions for e-commerce packaging and shipping. Companies that partner with UPS can now get a first-hand look at the latest technologies available from Sealed Air for processing orders.
With overall ecommerce sales projected to grow at about 10 percent annually over the next five years, and business-to-business ecommerce sales projected to more than double between 2012 and 2020 (to $12 billion), new challenges are appearing, such as:
Reducing packaging material waste.
Increased pressure on existing labor resources to ship more product, more quickly, and in more complex environments.
Deploying automated solutions that scale up and down according to seasonal or product-driven demand fluctuations.
The Innovation center will comprise 6,000 square feet dedicated to demonstrating Sealed Air packaging solutions that include:
The e-Cube void reduction system that automatically creates right-sized packaging, reducing the need for void-fill. This helps cost cuts and create a more sustainable approach.
The in-line FloWrap Automated Mailer System creates ready-to-ship, custom-sized polybag packages at a rate of up to 30 packs per minute in reducing the amount of time needed for sorting, label application, scanning and manual packing.
The Instapak iMold is an automated foam packaging system that utilizes foam dispersion technology to create a customized cushion for larger or fragile products.
The NewAir I.B. Flex inflatable cushioning system produces Bubble Wrap materials at up to 90 linear feet per minute.
The FasFil EZ Auto paper void fill system uses a footswitch operation to continuously output void-fill paper in both manual and programmed length modes.
The SpeedyPacker Insight System can produce up to 21 expandable foam-filled bags per minute.
The StealthWrap cartoning solution replaces traditional corrugated outer cartons with a secure film that reduces the dimension and billable freight weight of the package.
At the kick-off event for the Center, I sat down with John Wolf, Sealed Air's vice president of global marketing to discuss some of the trends driving the need for all of this new technology.
Jeff Reinke: Ecommerce is changing the way companies look at packaging. What do you feel are some of the most prominent trends?
John Wolf: I think everyone is trying to be smart about their packaging costs, which relates directly to the type and amount of material being used. So, we try to focus on solutions that help reduce those costs.
E-commerce has produced more orders, but lower quantities per order. So, we want to provide flexibility in handling all sizes of orders without wasting materials. This makes the end customer happy because they're not paying higher shipping costs stemming from unnecessary materials, and it keeps our customer's costs down because they don't have to purchase and maintain more packaging and shipping materials.
JR: E-commerce and the evolution of a global supply chain mean packaging solutions need to be scalable. What impact has this had on an equipment manufacturer like Sealed Air?
JW: Growth is a great motivator, and the growth in e-commerce and all the dynamics that accompany it have led us to re-think the "box". Boxes are harder and slower to pack in a high-volume fulfillment environment than you might think. And many of those boxes end up being too big for the items inside, which is wasteful and costly to ship, and annoying to the end consumer.
Rising corrugated prices are a headache for businesses that deal in high volume. But when you start adding up the labor time spent on boxes, the wasted space inside those boxes that they are paying to ship, and the fact that the end result is not an experience consumers prefer – that headache quickly becomes a migraine.
So maybe you don't need a traditional "box" anymore. Or maybe you don't need a box at all. There is a lot that can be done with a padded mailer. And then there are solutions like StealthWrap that can replace outer cartons altogether. Less waste in the box, less shipping cost out the door, and less effort for the end consumer to handle.
JR: The industrial sector is in the midst of a skills gap crisis. How does this relate to the packaging segment?
JW: I think Fulfillment is Industry 5.0. When you look at the way supply chains are evolving, there's an opportunity to transition some of those in operations or assembly roles to fulfillment because they understand complex machinery.
Right now it's difficult to find enough of the right people for these positions because the job is becoming more complex. I think the combination of new, automated technology and showcasing the significance of these roles could help address some of the staffing concerns packaging operations currently face.
JR: Do you think the industry as a whole is aware of all the technology available to them in streamlining and automating packaging and order fulfillment?
JW: The economics of modern e-commerce are driving awareness at levels we haven't seen before. For example, inflatable air-cushion packaging materials are not new. We've had inflatables in our portfolio for more than a decade. But because of the rise in dimensional weight pricing, because warehouse space has become so precious in the market, because speed to consumer has become so critical and condensed – people are looking at on-demand inflatables to replace materials that they never would have thought twice about before.
It takes a new kind of economic reality for people to really feel the sense of urgency to understand what kinds of solutions are available to them . One of the ways we are doing that is with a new team of in-house Operational Excellence consultants who can assess an entire fulfillment operation – even the parts that have nothing to do with packaging – and help a business discover their hidden time, cost and efficiency drains.
It does us no good to sell a complex piece of equipment into an operation that has multiple sources of inefficiency. We have to look at everything – people, processes, and the systems, in order to unlock next-level performance.