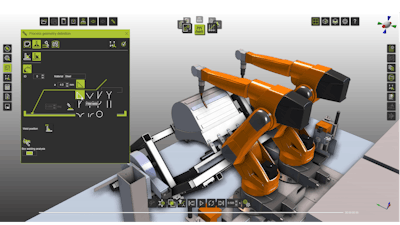 CENIT AG, Stuttgart
CENIT announced its FASTSUITE E2 release 2023.2, which features 28 new functions and enhancements as well as three major highlights: Automated AI-based path optimization, automated seam searches and efficient planning of welding operations via the Weld Cockpit.
These features make FASTSUITE E2 a tool for process optimization and cost effectiveness in robot welding applications.
"In this stage of our journey to autonomous offline programming, we have implemented a wide range of new features that deliver automatic optimization effects and significantly accelerate offline programming," said Jens Fetzer, Vice President Product Strategy, CENIT AG. "They virtually eliminate time-consuming, manual fine-tuning of manufacturing operations."
Offline Programming (OLP) with automated path optimization
This feature offers manufacturing businesses a leg up in "autonomous programming" of robot welding operations. The function relies on AI algorithms to automatically generate robot paths and analyze them to identify issues like collisions, axis limits and singularities. The algorithm then searches for optimal solutions and automatically generates error-free programs.
The new features also boost productivity. Optimized paths mean that the robots move more smoothly and efficiently during their welding operations, which shortens overall cycle times.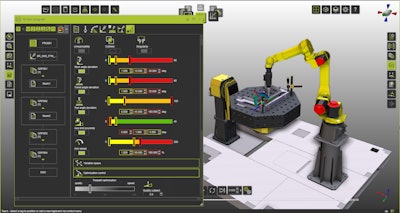 Automatic seam identification and tracing
Simulation and programming plus seam identification and seam tracing functions enable automated generation and optimization of robot welding paths. The robot programs are able to self-adjust so as to account for geometry deviations within the components and tacking arrangements, again reducing the need for manual reworking of the robot cell.
The Weld Cockpit
This function enables precise and consistent planning of welding processes and ensures reliable, replicable results. The "Weld Cockpit" lets the user insert welding symbols to define the intended welding path, or transfer a welding path directly from a 3D master model. It also supports standardized transfer of tooling information from production drawings to OLP processes.
Standardization and the use of recognized welding symbols and standards make the Cockpit a valuable aid in ensuring consistency and reliability. Automated parameter assignment produces uniform results and better quality because it largely eliminates human misinterpretation of welding symbols, errors in welding path definition and incorrect assignment of process parameters.