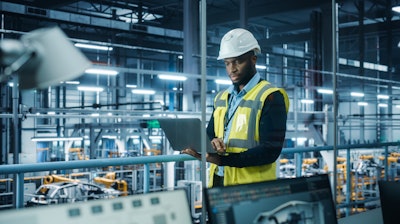 iStock
Palantir Technologies today launched Palantir Foundry for Manufacturing on Amazon Web Services (AWS), an integrated offering that allows users to merge industrial data, decisions and operations to fully harness manufacturing data through its entire lifecycle.
Foundry brings data to life for manufacturing customers, offering a single environment to drive optimization and organizational change. This is done through the convergence of information technology and operational technology (IT/OT), as well as operations data, the integration of traceable data models, and closed-loop operational applications for leadership, engineers, and operators alike.
Foundry for Manufacturing on AWS is a comprehensive solution that helps manufacturers integrate and contextualize their data assets and unlock powerful applications, such as yield optimization, dynamic maintenance, production scheduling and computer vision quality detection. Integrations between Foundry and AWS services such as AWS Lake Formation, Amazon Redshift and Amazon Relational Database Service (Amazon RDS) allow for additional flexibility.
Foundry for Manufacturing on AWS addresses the challenges of fragmented data systems with high barriers to access data, responding to the frequent value chain disruption, and widespread talent and skills shortages. With this solution based on the AWS Industrial Data Fabric offering, customers can take immediate steps toward transforming manufacturing and industrial operations and embracing a data-driven approach.
Foundry is quickly becoming the primary operating system at Integrity Tool & Mold's largest plant in Windsor, Canada. The company engaged with Palantir early on in its digital transformation journey and Integrity Tool & Mold is on track to build a best-in-class digital command center, connecting teams and data from across the organization to improve manufacturing operations.
Panasonic Energy recently deployed Foundry on AWS at its Panasonic Energy of North America facility in Sparks, Nevada. Foundry on AWS now serves as the foundation of Panasonic Energy of North America's Smart Factory ecosystem, deploying technology across the stack from Edge AI to SDKs. The SDKs allow enterprises to leverage the Foundry Ontology and ML capabilities in external applications across the business.
Jacobs, one of the world's largest engineering and technical services companies, developed a process optimization and dynamic maintenance solution suite in Palantir Foundry that connects predictive AI modeling with day-to-day site operations to improve energy and chemical usage across plant sites. In 6 months, Jacobs achieved a 20% annual reduction in plant-wide energy utilization at the pilot site location, and the company is now scaling to multiple plant locations.