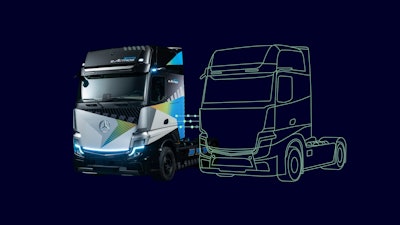 Siemens
Siemens Digital Industries Software and Daimler Truck AG today announced a new collaboration to implement a state-of-the-art digital engineering platform built using the Siemens Xcelerator portfolio of software and services. The new platform will enable Daimler Truck to explore a future of commercial vehicle innovation and the efficient product development and lifecycle management of trucks and buses and will be rolled out globally across Daimler Trucks' engineering hubs, brands and business segments.
The new digital platform will expand Daimler Truck's adoption of the Siemens Xcelerator portfolio through the implementation of Teamcenter software for Product Lifecycle Management (PLM), extended with Bill of Materials (BOM) management as its future standard PLM solution. This environment brings together and integrates the Daimler Truck teams' workflows, systems and their associated mechanical design, electrical design and simulation data. This expands upon Daimler Truck's use of solutions from across the Siemens Xcelerator portfolio, including NX software for product engineering.
Since its establishment as an independent entity, Daimler Truck has begun a digitalization initiative to migrate away from Daimler AG legacy systems with the strategic intent to lead sustainable transportation with intelligent IT innovations. To develop trucks and buses of the future, Daimler Truck is pursuing a clear technology strategy where, in a carbon-neutral future, vehicles will be powered by both electric battery and hydrogen-based drives. These vehicles are also likely to become more intelligent through increased digitalization enabling next-level service offerings, such as autonomous trucking.
Daimler Truck is taking a global platform approach, which means that the guiding principle of developing key components and vehicle platforms once and then scaling them globally across brands and markets is fundamental. To enable this, a cloud-based global collaboration and common digital engineering system platform is essential, so Daimler Truck chose Siemens as the technology and implementation provider to build this next-generation engineering digital environment.