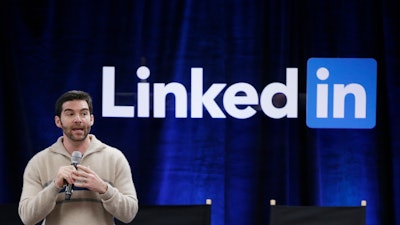 AP Photo/Marcio Jose Sanchez
NEW YORK (AP) — In a surprise move, Microsoft said Monday that it is buying LinkedIn for about $26.2 billion, a deal that could bring subtle but significant changes for the professional network's more than 430 million members.
LinkedIn will remain an independent unit of Microsoft. It will keep its name, and current CEO Jeff Weiner will stay on and report directly to Microsoft CEO Satya Nadella. LinkedIn lets members network with other professionals, upload their resumes, catch up on career advice and search for jobs.
For Microsoft, the deal presents an opportunity to cement itself as the tech company for the world's professionals, helping them find jobs, learn new skills and do their work. Microsoft will also look for ways to combine Microsoft's software for workers with the information stored in LinkedIn's online professional network.
For instance, Nadella told The Associated Press that Microsoft's digital assistant Cortana could mine LinkedIn for helpful data. "Cortana can wake up before you go into a meeting and inform you about all the people you are meeting for the first time and the connections you have with them," he said.
Similarly, he said, LinkedIn's "news feed" — which provides articles and updates from your contacts on the network — could highlight information that's relevant to a project you might be working on using Microsoft's Office 365 software. LinkedIn users might see changes in the first year after the deal is closed, Nadella said.
Microsoft may also integrate its business software with LinkedIn's growing business of providing sales professionals with contacts and information to help make sales to large companies.
LinkedIn, based in Mountain View, California, is by far Microsoft's largest acquisition — much larger than Skype, which the company bought for $8.5 billion in 2011. Microsoft Corp., which is in Redmond, Washington, is paying $196 for each share of LinkedIn Corp., a 50 percent premium over the stock's closing price of $131.08 on Friday. The deal is expected to close this year.
LinkedIn's business and share price have been rocky recently. In February, it gave a surprise forecast for slower growth that led to a big sell-off, wiping out nearly $11 billion in market value. The company said at the time that its adjusted earnings would be 55 cents a share on revenue of roughly $820 million. Its stock climbed higher after it reported better than expected results for the first quarter, though not enough to recover from the earlier plunge.
In an email to LinkedIn employees posted online , Weiner asked them to give themselves "some time to process the news."
"You might feel a sense of excitement, fear, sadness, or some combination of all of those emotions. Every member of the exec team has experienced the same, but we've had months to process," he wrote. "Regardless of the ups and downs, we've come out the other side knowing beyond a shadow of a doubt, this is the best thing for our company."
Microsoft has a mixed track record with acquisitions, having written off more than $10 billion it poured into companies such as cellphone maker Nokia and an online ad firm called aQuantive. Nadella expressed confidence that this one will succeed, citing the company's more successful takeovers of Skype and Minecraft.
LinkedIn shares soared 47 percent to $192.50 in midday trading Monday. Microsoft shares slipped nearly 3 percent to $50.01.