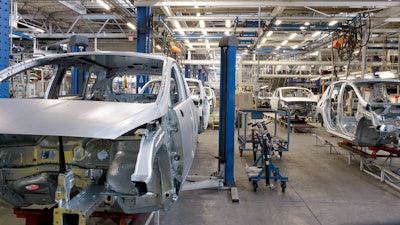 iStock
The automotive industry is on the rise.
According to the 2021 Global Automotive Market report, the global automotive industry is expected to grow at a CAGR of 3.71% between 2020 and 2030. The report predicts that the automotive market will reach 122.83 million units by 2030.
However, this growth has its downsides. Besides roughened competition, vehicle manufacturers and auto dealers increasingly face labor shortage challenges, supply chain disruptions, and workflow complexity. All these issues result in decreased operational efficiency, which negatively affects the service quality and, consequently, customer satisfaction.
In this context, developing and adopting ERP software for the automotive industry has become a critical business aspect determining organizations' competitiveness and profitability. In addition, ERP helps maximize organizations' efficiency via workflow centralization and optimization.
This article covers essential features of automotive ERP software to assist dealers and manufacturers in establishing a more productive and competitive business.
Production management
Automotive manufacturers may consider empowering their ERP software with production management capabilities. For example, automotive ERPs may include features like production planning, product lifecycle management, product quality management, and performance tracking.
With this feature, manufacturers may organize and manage the vehicle production process by prioritizing its various stages and allocating machine and human resources. It also enables controlling the availability and supply of components and raw materials.
In practice, such functionality allows production planning managers to create production scheduling documents containing product names, cycle times, order statuses, estimated manufacturing dates, and inventory data. These documents help employees better harmonize supply and demand, meet deadlines, and keep on allocated budgets.
Product lifecycle management (PLM)
With in-built PLM tools, organizations may control the entire product manufacturing cycle, from design and production to maintenance, service, and distribution. For instance, developers may build features for managing bills of materials (BOM). These documents help ensure that all the required materials and components are available for continuous manufacturing and maintenance.
Product quality management (PQM)
High product quality is an important goal for any organization involved in vehicle manufacturing. Provided that it has proper functionality, automotive ERP is the right tool to achieve it. Implementing quality management capabilities in ERP, developers enable manufacturers to plan inspections, store inspection history and manage compliance regarding official and industry rules.
With performance tracking functionality, manufacturers can monitor predefined KPIs to control cycle time, changeover time, quality, and production and maintenance costs. Thus, organizations may improve manufacturing transparency, streamline workflows to enhance operational efficiency, allocate resources wisely, and monitor equipment health.
Customer relationship management (CRM)
According to the Global Automotive Executive Survey 2021 by KPMG, 78% of global executives expect most vehicle purchases to be made via the internet by 2030. In-built CRM features will help manufacturers and car dealers turn this challenge into an opportunity by enabling ERPs to generate and nurture leads through digital channels.
For instance, CRM features help marketing and sales reps quickly access relevant customer data, even during real-time communication, to provide more personalized and accurate service. Additionally, employees may use CRM capabilities for analytics to identify the best sales channels, predict trends, and optimize marketing, helping businesses adapt to ever-changing market conditions.
Inventory management
Such functionality enables an organization to continuously maintain the necessary inventory, equipment, and raw materials required to produce the estimated amount of vehicles. In addition, inventory management features help automotive organizations keep track of the number of finished products, avoiding shortages and oversupply.
Moreover, automotive ERP with in-built inventory management can be integrated with corporate eSourcing software. The latter may automatically generate requests for proposals (RFPs) and run electronic auctions, thus optimizing and improving the entire sourcing and procurement cycle while eliminating the need to do everything manually.
Human resources management (HRM)
In recent years, the labor shortage has become an increasingly acute challenge for manufacturers and auto dealers, and this negative trend is gaining momentum. For example, in the report Skills Evolution Roadmap 2025 by Ennis & Co, researchers state that the global automotive industry will face a shortage of 2.3 million workers by 2025 and 4.3 million by 2030.
Automotive ERP with built-in HRM functionality may help meet the organizations' demand and avoid skill gaps. For example, let us suggest an ERP system is equipped with artificial intelligence. Using AI, it may analyze the work of various organizations' departments to identify the need for a particular talent timely. If necessary, such an ERP may also provide templates for job adverts, helping HR specialists faster attract relevant candidates.
In addition, an ERP capable of HRM may fulfill the role of a centralized database. Using it, HR specialists may quickly access information about employees' contacts, positions, productivity, vacations, and salaries. Thus, an ERP may help an organization promptly meet workers' requirements, resulting in enhanced employee satisfaction and retention.
Analytics
ERPs gather and process vast amounts of data related to various business aspects, from manufacturing, marketing, and sales to finance and human resources. Therefore, an in-built analytics module may help generate data-based insights to optimize the above aspects, leading to improved operational efficiency.
In addition, developers may adopt analytics features to help an organization identify its most effective dealerships or sales channels. Alternatively, if fueled with the correct data, such functionality may enable marketing specialists to run more effective campaigns and thus attract more customers.
Final thoughts
The automotive industry is growing, but so is the competition; the market conditions are complicated with the labor shortage, disrupted supply chains, and increasing workflow complexity. As a result, vehicle manufacturers and auto dealers now require new technology tools to meet the challenges, handle business complexity, and accelerate growth.
Specialized automotive ERP software may come in handy. With the proper in-built functionality, such software solutions help automotive organizations streamline production management, inventory management, CRM, HRM, and analytics, resulting in enhanced operational effectiveness and profitability.
Roman Davydov is part of Itransition: Software Development Company.