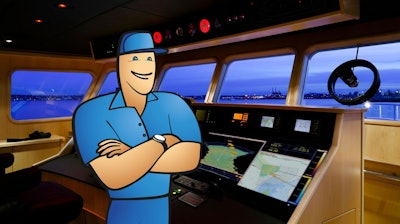 MRPeasy
FarSounder is a marine navigation device manufacturer from Warwick, Rhode Island. The company has developed a 3D Forward Looking Sonar (FLS) system that allows ship and boat operators to see what lies underwater up to 1000 meters or 0.5 nautical miles ahead of the vessel. As most of our oceans are still uncharted or have outdated charts, this enables ships to safely navigate the vast unknown.
When FarSounder was founded in 2001, navigation tech could not yet tell marine operators what lay in the ocean ahead of their vessel. While sonar was nothing new, it could only tell seafarers what was below them, not what was in front of them. FarSounder came to the market with a new configuration of the technology, employing new algorithms and developing software to effectively utilize the sonar system. In 2005, they shipped their first units and today, they offer a globally recognized product line that increases maritime safety wherever their systems are deployed.
Accounting software could not handle inventory management
Initially, the company was using QuickBooks Desktop for accounting and inventory management. According to founder and CEO Matt Zimmerman, the company's inventory management requirements were too sophisticated for the accounting software.
"We saw three options: to stay as we were with QuickBooks Desktop, implement a cloud-based accounting solution along with a third-party inventory integration, or move on to a very complicated and expensive accounting and process management tool," he says.
As Zimmerman and his team did not see a need for a complicated ERP system, they considered QuickBooks Online in combination with the natively integrated inventory apps. Three or four solutions made it to the trialing stage, from which MRPeasy emerged as the winner.
"One of the things that set MRPeasy apart was its very robust material requirements planning functionality," Zimmerman states. "Having the system tell us exactly what we can make with existing inventory and what we need in order to build a certain number of products made a huge difference. We couldn't find a solution with better manufacturing inventory management capabilities at this price point."
Zimmerman also noticed that many of the solutions available on the QuickBooks App Store were focused on e-commerce and tracking web shop inventory.
"We were not interested in that at all," he says. "We needed manufacturing-specific functionality: tracking components and forecasting our material requirements."
An unbeatable balance of functionality and price
Implementation of MRPeasy started in the autumn of 2020 and was executed by Zimmerman and two of his colleagues. Starting from January 1, 2021, the new system went live.
Although FarSounder has rolled out the software to cover inventory management, sales, purchases, and the bills of materials, their production volumes are not yet at a level that would require them to use MRPeasy's production scheduling functionality. As the software enables users to pick and choose which functions their company currently needs, FarSounder, like many clients, opted to roll out the software gradually, as the business expands.
"Right now, we are working on implementing quality inspections and returns management," Zimmerman states. "Sometimes we need to take products back for rework and the RMA module helps us manage this without complicating our inventory management."
Material planning time was cut by around 90%
Today, two and a half years after starting to use MRPeasy, FarSounder is seeing many benefits from implementing the software. Zimmerman especially highlights the visibility the new system has brought to the company.
"Being able to see all of our orders and what needs to be built along with inventory requirements for fulfilling those orders has brought the most value to our business," he says. "In addition, the stock lot and serial number tracking functionality is a very effective way for keeping tabs on inventory."
The most impressive feat of the new system, however, is how much it has reduced the time spent on material planning.
"Using our previous system, it took me a day to understand what parts we needed to order and when," Zimmerman says. "With MRPeasy, it takes less than an hour."
For more information, visit www.mrpeasy.com.