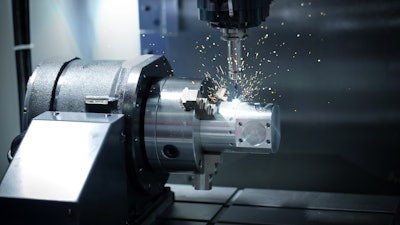 iStock
NEW ORLEANS - On-time delivery is crucial for Oberg Industries, a 75-year-old vertically integrated contract manufacturer and supply chain integrator based in Pittsburgh.
Oberg is known for providing metal stamping and precision machining services to take customer products from conceptual design to high-volume production. The company employs nearly 700 workers across five facilities in the U.S., with more than 450,000 square feet of manufacturing space.
However, maintaining on-time delivery can present several challenges. Steve Turner, Oberg's director of information systems, explained at the Infor Now conference in New Orleans how the company uses the Infor CloudSuite Aerospace & Defense (ERP LN) multi-tenant cloud to overcome such difficulties.
Most Read on IEN
Turner said that Oberg has about 8,000 production orders active on the floor in its plants at any time, and each one of those orders averages eight to 10 unique manufacturing steps.
Oberg wondered how it could get more products through its company with the same resources. With that in mind, Oberg moved to the multi-tenant cloud in 2020 and has since explored Infor's Coleman AI, Birst, ION, ION API, Factory Track and Data Lake to drive AI and automation initiatives.
"Customers for us want three things: They want a quality part on time at cost," Turner said. "If you don't have quality, you don't get to play in the game. Cost is a negotiated situation with your customers. So the only thing we really have to lay our hat to is on-time delivery."
Turner admitted that the company hit some "speed bumps" during its Infor suite integration. While the COVID-19 pandemic was a contributing factor, Turner revealed that Oberg's on-time delivery performance declined to about 55%, impacting its customer base, which includes Fortune 100 clients.
Oberg's choice to adopt the multi-tenant cloud came independently of the COVID-19 pandemic. Still, Turner emphasized that implementing the cloud was part of the company's strategy to stay competitive and efficiently manage their operations.
Turner added that Oberg went "all in" on the Infor CloudSuite, including ERP, Enterprise Asset Management (EAM), Customer Relation Management (CRM), Product Lifecycle Management (PLM), Factory Track and iOS, and combined the different applications to bring the whole suite together. According to Turner, the combination provided visibility and clarity.
"We had other applications that did not align the data across the organization that we had replaced," Turner said. "We had a different facilities maintenance management program. We had a different customer relations aspect. We didn't have any in PLM, so we added a product lifecycle management capability. Just putting in a CloudSuite gave us a new foundation to really lay for our business."
A significant aspect of Oberg's strategy was the role of AI in managing estimates versus expectations. Turner discussed how the company uses AI to measure the actual performance against initial estimates, which allowed them to adjust their manufacturing planning in response to the data gathered by Infor's Factory Track. This allowed Oberg to make real-time decisions that contributed to better on-time delivery performance.
Oberg reportedly increased its on-time delivery performance to over 90% in about 18 months, benefiting its customers across various industries, including consumer healthcare, housing, construction, energy and oil, medical device manufacturing and aerospace and defense.
While Oberg's business volume increased by approximately 40%, the company simultaneously downsized 30% of its workforce. The reduction involved shuttering a plant in Costa Rica and moving its capabilities to the company's Pennsylvania facilities. Turner also said Oberg took people out of inefficient processes on the administration side and did not backfill the positions held by retirees.
"If you start using tools that are available to you, then you start seeing that you can process more with the people [you have]," Turner said. "Now you're either moving those people into other areas that need capacity to do so. Or, sometimes there's just a hard call."
For the future, Turner said Oberg is evaluating Infor's machine monitoring model, which could use IoT technology to predict machine failures. Oberg is also looking at incorporating the actual data from Factory Track into its planning systems to potentially update how a product is expected to move on the floor.