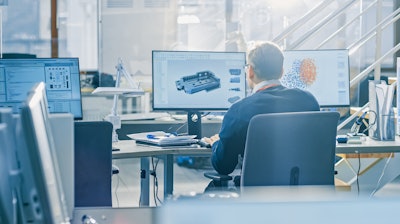 iStock
Cloud-based manufacturing solutions continue to develop year-over-year, leading many manufacturers, if they have not started already, to take the necessary steps to make the transition from on-prem to cloud. As a major investment for any manufacturer, those who are most informed about the state of the technology and what to look for in potential vendors will be best suited to make the most of the transition to cloud.
With that in mind, this piece will discuss some of the essential information manufacturers need to know, including how to determine the value of a cloud transition and what questions to ask cloud-based vendors when weighing options.
Cloud Native vs. Cloud Based
It is important to note that not all cloud-based offerings are built equally. Customers are likely to come across cloud-capable software that was not built for the cloud itself. This is commonly referred to as "Lift and Shift," generally referring to SaaS-based applications that are adapted for cloud. On the other hand, cloud-native solutions are software that are built in cloud environments from the ground up and better designed to take full advantage of cloud capabilities. Manufacturers considering cloud-based solutions should be aware of this difference and ensure the software they are considering is cloud native.
Scalability and the Value of the Cloud
Cost is often the deciding factor for manufacturers considering a transition to cloud. When comparing the immediate cost, manufacturers may find that cloud solutions are similar if not more expensive than traditional on-prem enterprise software solutions. However, this does not paint the full picture and users, particularly in growing businesses, have more to consider when comparing the total cost of ownership, including scalability which cloud solutions excel in.
Scalability can have an immediate effect on the cost of ownership. While traditional software solutions may have pre-built offerings, cloud-based software allows users to choose specific functions needed for a specific module from the beginning. Additionally, as cloud development continues, small functions can be deployed and rolled out to the end user simplifying the process.
Similarly, manufacturers may find that as their company grows, ongoing licenses with their vendors may become more expensive when they are forced to renegotiate the resources they need – costing the company time and money.
Finally, cloud-based solutions offer "Dynamic Scalability" for their users. It is common to find that computing resources are used differently at different times. For example, one may find that actual work order functions are minimal, but login, sign-ins, and sign-off functionality. While on-prem solutions may require the manufacturer to play for the maximum possible usage needed, cloud native technology can detect where traffic is coming in from and divert containers to meet that demand.
Some Questions for the Vendor
Having covered some basics on what makes a solution cloud-native and how to determine the costs, there are additional areas manufacturers should understand and inquire about when discussing with potential vendors.
Ecosystem
A connected ecosystem gives users better access to solutions that they may need for their specific use case and the eventual customer. Manufactures should ask:
Does the vendor participate in a digital marketplace that connects them with the partners, suppliers and customers?

Does the vendor support API and Rest API's specifically?

Does the vendor offer out-of-the-box connectivity between key applications?
Cybersecurity
Whereas traditional enterprise applications may only require modest cybersecurity, a move to the cloud requires much more extensive network communication and greater degrees of security. Manufacturers should ask:
As a baseline, does the vendor incorporate a zero-trust model in their software?

Does the vendor conform to more stringent security, such as the standards from the Open Worldwide Application Security Project?

How does the vendor handle Common Vulnerabilities Exposures?
Web-Based Enterprise Capabilities
One of the major purposes of cloud-native technology is to better enable Web-Based Enterprise Management. Web Based Enterprise Management is an initiative to help manage the complexity of distributed IT environments. While cloud solutions are an immediate step forward, not all solutions deliver on major aspects of Web-Based Enterprise Management. Manufacturers should ask:
How does the vendor's solution help promote interdepartmental communication and data flow?

Does the vendor's solutions have intuitive and responsive UX, and can users connect to it through all the devices the manufacturer uses?

How forward-looking is the solution? Will the next generation of the workforce embrace design?
Avoid Analysis Paralysis and Commit to the Cloud
Transitioning from legacy enterprise technology to the cloud is a challenging task, particularly in the manufacturing industry. When navigating the process, manufacturers may want to abandon cloud adoption for their existing technology to avoid the risk of change. But the trajectory of technology is clear, and with diligent scrutiny and a committed approach, manufacturers are well-positioned to take full advantage of their cloud migration.