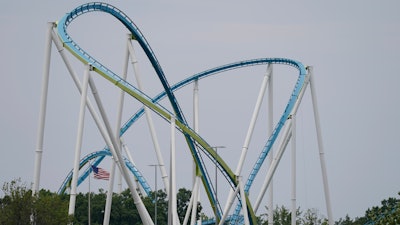 AP Photo/Erik Verduzco
CHARLOTTE, N.C. (AP) — Another structural issue has been located with a large roller coaster that's been closed for weeks since a large crack in a support column was discovered, a North Carolina agency confirmed on Friday.
A Swiss-based engineering company that designed and built the Fury 325 roller coaster at Carowinds, which sits along the North Carolina-South Carolina border, replaced that steel support column earlier this month, news outlets reported.
But the North Carolina Department of Labor, which inspects the ride and decides whether it can operate, said in an email that the agency has now been notified of a separate "weld indication," which "could be either a break or a crack."
"No certificate of operation has been issued nor do we have a timeline of when the certificate of operation will be issued for the Fury 325," department spokesperson Meredith Watson said, referring other questions to Carowinds.
In a statement released Friday, Carowinds said it was conducting a full maintenance review of the ride while test runs are performed.
"During such reviews, it is not uncommon to discover slight weld indications in various locations of a steel superstructure. It is important to note that these indications do not compromise the structural integrity or safety of the ride," the statement reads. "Once a repair is completed, it undergoes inspection and approval before the ride is deemed operational."
Park staff closed Fury 325 on June 30 after a visitor pointed out the sizable crack. State Labor Commissioner Josh Dobson said earlier this month that the crack had been visible for at least a week before it was shut down.
Video of the coaster, which reaches 325 feet (99 meters) in height, had showed a key support beam bending with the top visibly detached as cars with passengers barreled by. The roller coaster runs at speeds of up to 95 mph (150 kph).
The department's Elevator and Amusement Device Bureau said it had conducted its annual inspection of Fury 325 in February and only found a few signage issues, which the park quickly corrected.
Inspections by the park, the engineering company, a third-party testing firm and the Department of Labor have been ongoing. Carowinds has said it's changing how it inspects rides daily, including the use of drone cameras to examine areas.
While the park straddles the border between the two states, North Carolina regulators inspect Fury 325 because its nearby entrance is in North Carolina.